Our Best Stuff From the Week Zelensky Came to Town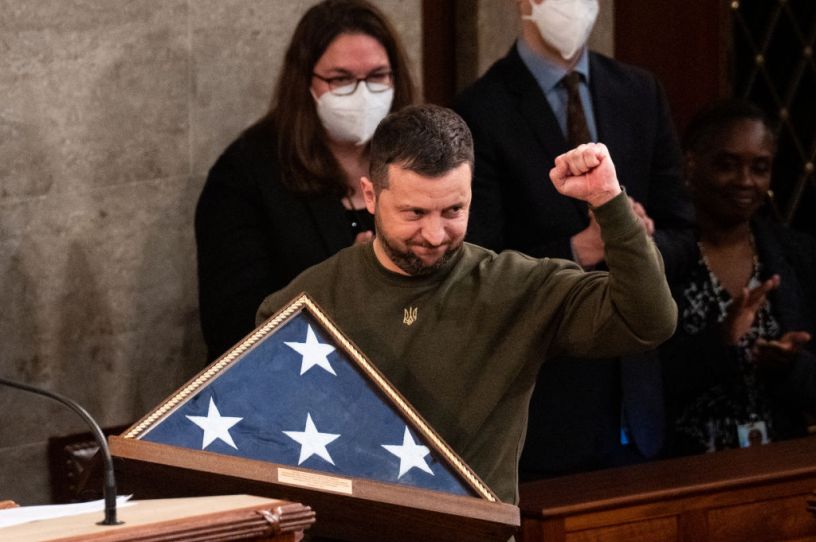 Ukraine President Volodymyr Zelenskyy raises his fist after exhanging flags with Nancy Pelosi at the end of his address. (Bill Clark/CQ-Roll Call/Getty Images.)
Hello and happy Saturday. For those of you who celebrate, I hope your preparations are wrapping up, that the stockings have been hung by the chimney with care, and that you keep in mind that the most enduring traditions of the season are best enjoyed in the warm embrace of kith and kin.
This might sound weird, but Christmas came early for me this week when Ukrainian President Volodymyr Zelensky visited Washington. (And no, I'm not trying to evoke any religious imagery or parables.) I remember the first reports of explosions last February and fearing what would happen if, as many expected, the Russian military took the Kyiv airport and then rolled over the rest of the country with ease. The Morning Dispatch that we published hours after the invasion began concluded with a quote that ABC News' Martha Raddatz shared, from a Pentagon official: "You are likely in the last few hours of peace on the European continent for a long time to come." It felt ominous but accurate.
And indeed, it looks like it will be awhile before there will be peace on the European continent. But—to invoke a phrase from when clickbaity journalism began taking over the internet—not for the reasons you think (or at least would have thought back in February). Ukraine is, as Zelensky said memorably during his address to Congress, "alive and kicking." The war continues because Ukraine is winning. Russia's military isn't what we thought it was (though at least a few people were aware), and Ukraine proved more resilient than anyone predicted. Many in the military had been hardened by fighting in the Donbas, where Russia invaded in 2014. The West rushed into help with military aid. And the Ukrainian people have displayed remarkable bravery. But also, Zelensky stayed. Reportedly, when the Biden administration offered to evacuate him, he replied, "The fight is here; I need ammunition, not a ride."
Zelensky's staying wasn't merely symbolic—Ukraine reportedly thwarted multiple attempts by the Russians to assassinate him—but it was nonetheless a powerful symbol. Would Western nations have thrown so much into the war effort if he hadn't? Would the people have stood so tall? Fortunately, those are questions we needn't answer.
Get every newsletter and all of The Dispatch. Support quality, fact-based journalism.
Get Started
ALREADY HAVE AN ACCOUNT? SIGN IN