Our Best Stuff on Biden's Classified Document Scandal, George Santos, and Gas Stoves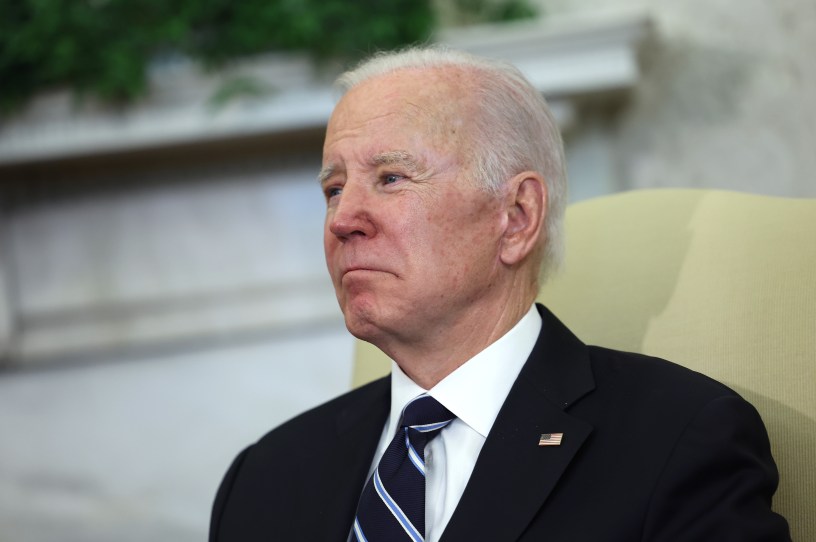 President Joe Biden. (Photo by Kevin Dietsch/Getty Images)
Hello and happy Saturday. There is a long-running joke—one that lives mostly on Twitter but also creeps into online commentary—about how we're living in someone else's scripted television show. "The writers of this season of America are really kicking up the drama," or "Who saw that plot twist coming from the writers this season?" Readers, I regret to tell you that I have my suspicions that the writers were on something this week, and I don't mean vacation.
Let's look at the stories that dominated the headlines this week: On Monday, CBS News reported that lawyers for Joe Biden had discovered classified documents in an office he kept after he was vice president. In normal times, this might not be the end of the world—others have done it, Biden's lawyers were apparently upfront about the issue and returned the documents to the National Archives, etc.—except for the fact, of course, that former President Donald Trump took a few hundred classified docs to Mar-a-Lago when he departed the White House in 2021. Twitter is somehow still up and running despite the centrifugal forces it was subjected to as millions of users did a 180 on whatever their prior strongly held beliefs regarding the handling of classified documents had been.
But we learned that the documents had been discovered on November 2, a week before the midterms, and no one had said a peep until CBS News broke the story. Not only does that lend itself to the idea that the White House kept everything hush-hush so as not to affect the election, but it let people know that the administration had two months to prepare its response for whenever the news would inevitably break. That time was … not used wisely. Because on Wednesday we learned that Biden's lawyers had found more classified docs, this time in the garage of his home in Wilmington, Delaware. Wow, that was fast, a reasonable person might think. Right after the story broke, they did the responsible thing and went to see if there were more documents elsewhere. Nope. Those documents had been found on December 20, but for some reason, no one thought to get out in front of that when acknowledging the original story earlier in the week.
Who would think they could try to hide all that info and not come away looking bad? Oh, I dunno. Maybe George Santos? Which brings me to another of this week's big stories. Santos is the freshman representative from New York who lied about, well, pretty much everything en route to getting elected. There is no easy path to getting him out of office, but new House Speaker Kevin McCarthy is hesitant to take the steps he could, such as denying him committee spots or censuring him. After all, McCarthy has a narrow majority and Santos supported him. Now, it's not all bad news: As Haley reports in Uphill (🔒), New York Republicans are calling on him to resign, and Santos might have more trouble clearing up a mystery about his campaign funding than he did about questions about his background. ("I never claimed to be Jewish. … I said I was 'Jew-ish.'") But still …