Some Georgia Businesses Can Reopen. But Will They?
As Atlanta's mayor speaks out against the governor's plan, some business owners will stay closed out of caution and other concerns.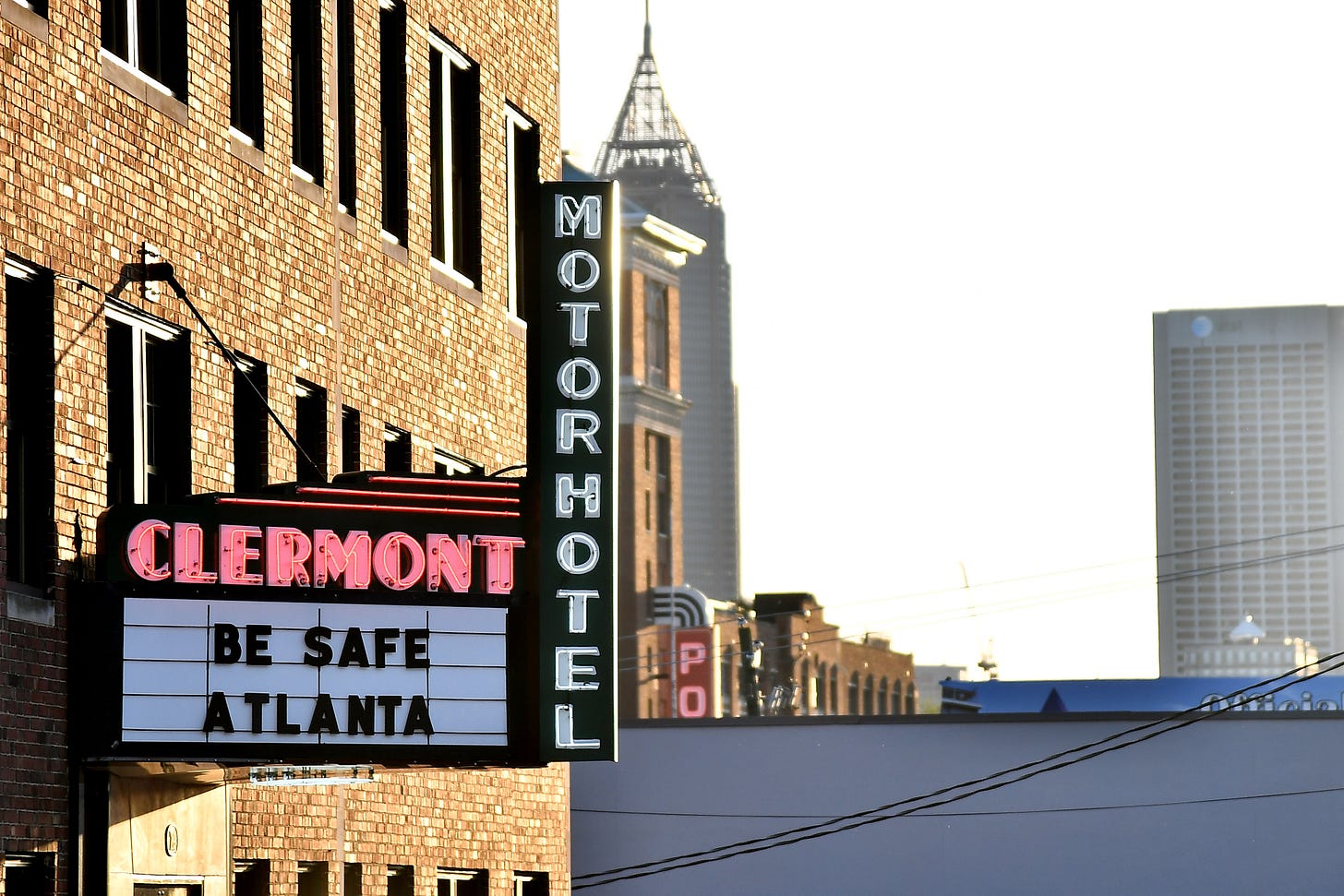 After President Trump revealed the coronavirus task force's road map for states to reopen their economies earlier this month, Gov. Brian Kemp—the Republican from Georgia—was among the first to announce a plan. "In the same way that we carefully closed businesses and urged operations to end to mitigate the virus' spread, today, we are announcing plans to incrementally—and safely—reopen sectors of our economy," he declared at a press conference on Monday. Gyms, bowling alleys, tattoo parlors, hairdressers, and the like will be permitted to open their doors starting tomorrow. Theaters and dine-in restaurants can follow suit on Monday.
Kemp was not alone in pushing his state along the path toward normalcy. Republicans Henry McMaster in South Carolina and Bill Lee in Tennessee also announced plans this week to begin reopening segments of their states' economies; Democratic Gov. Jared Polis did the same in Colorado. 
But Georgia—with its 21,214 confirmed COVID-19 cases—is outpacing Colorado by a factor of two, Tennessee by a factor of three, and South Carolina by a factor of four and a half. The Peach State has tested only 94,072 people for the virus—about 0.9 percent of the state's population.
Atlanta Mayor Keisha Lance Bottoms has spent the last several days on a media blitz opposing Kemp's decision, conceding that while the governor's order "supersedes" her own authority, that won't stop her from speaking up. "What I will continue to ask Atlantans, is to please stay at home," she told ABC News' Linsey Davis. "It is extremely concerning when people don't know how they will eat and how they will pay their bills. But these are concerns that you have when you are amongst the living."
Even President Trump—who praised Kemp on Tuesday as a "very capable man" who "knows what he's doing"—reversed course a day later and criticized Georgia's plan to loosen certain restrictions. "I disagree strongly with [the governor's] decision to open certain facilities which are in violation of the Phase One guidelines," he said on Wednesday. "I want him to do what he thinks is right … but I think spas, and beauty salons, and tattoo parlors, and barber shops, in Phase One … is just too soon. … They can wait a little bit longer."
Backed by data, full steam ahead.
Kemp is staying the course. "Earlier today, I discussed Georgia's plan to reopen shuttered businesses for limited operations with @POTUS. I appreciate his bold leadership and insight during these difficult times and the framework provided by the White House to safely move states forward," he tweeted Wednesday night. "Our next measured step is driven by data and guided by state public health officials. We will continue with this approach to protect the lives—and livelihoods—of all Georgians."
For all the grief Kemp has gotten—and he's gotten a lot of grief—his move is not as far-reaching as some have made it out to be. "The entities that I am reopening are not reopening for 'business as usual,'" he told reporters on Monday. "Today's announcement is a small step forward and should be treated as such."
The plan—which has gotten sign-off from the commissioner of Georgia's Department of Public Health, Dr. Kathleen Toomey—keeps the state's shelter-in-place order in effect until the end of the month, and businesses that reopen will be required to adhere to "Minimum Basic Operations"—screening workers for fever or respiratory illness, staggering shifts to minimize crowding, encouraging teleworking whenever possible.
Kemp was adamant the move was about helping those Georgians most financially devastated by the lockdowns. "I don't give a damn about politics right now," he said. "We're talking about somebody that has put their whole life into building a business that has people they love and work with every single day … that are at home, going broke, worrying about whether they can feed their children, make their mortgage payment."
There are tradeoffs. "When we have more people moving around, we're probably going to see our cases continue to go up," he conceded. "But we're a lot better prepared for that now than we were over a month ago."
"I believe we'll be able to stay on top of it. But … if we have an instance where a community starts becoming a hotspot, I will take further action."
The preliminary numbers in Georgia have been promising in the past week. But some public health experts said they wouldn't start making changes quite yet. "I think that they have encouraging data for about five days that suggests that the number of cases and number of deaths may be declining," Dr. Gregory Kirk, infectious disease physician and epidemiologist at Johns Hopkins' Bloomberg School of Public Health, told The Dispatch. But "that trend in the right direction is when you should start to consider reopening. You certainly don't want to do it before that. I would be very hesitant to bet the lives of my state's citizens until I really saw a longer trend and a more reliable data structure supporting that trend."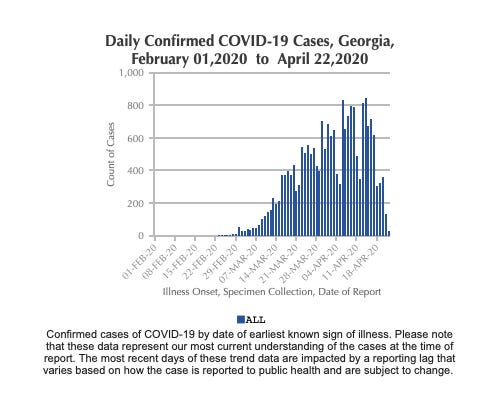 Kirk added he would also be "very hesitant" to say the state has the medical capacity to take care of everyone. "I know there's been some allusion that, 'Well, we have more beds,'" he said. "Personal protective equipment and the length of hours for your health care workers has been stressed for the last several weeks. So I would be much more judicious in going slow, just because I don't think you have all of those factors all lined up. The other issue is that you have to have good contact tracing and ability to test people."
Kemp announced a partnership with Augusta University Health to help screen potential coronavirus patients with an app, and the Georgia National Guard has been deployed to administer 1,500 tests per day. But public health officials argue that limiting testing to symptomatic cases will drastically underestimate the spread of the virus and hinder states' ability to contain it. A recent Harvard report suggested the country will need to ramp up to 20 million tests per day to "fully remobilize the economy."
Asked about this criticism from epidemiologists and infectious disease experts, Kemp pleaded with them to give his approach a chance. "A lot of people were giving that warning before they even knew what we were planning on doing today."
Ultimately, Kemp expressed trust in the people of his state to continue taking precautions that will slow the spread of the coronavirus. "People know what social distancing is," he said. "Georgians that are small business owners, those people have common sense. We're trusting them to use it."
If you open it, they won't come.
Some companies will undoubtedly heed Kemp's guidance in the coming days and gradually return to work. But The Dispatch reached out to nearly 20 small businesses in Georgia touched by the governor's new plan. Not one told us they were reopening this week.
"After careful consideration, and the guidance of the city of Atlanta's mayor, we have decided to stay closed until further notice," Atlanta's Freedom Barber Co. said in an email. "Our barbers' and our clients' health and safety are always our number one priority." The business will not resume operations until the local government gives the go-ahead.
"Although the governor has said we may be able to open the dining room (with restrictions), I am not sure we will be doing that for a couple of weeks," Cathy Rocha said of her restaurant, Tacqueria Pancho Villa, in Waycross. "I want to be sure we can do so as safely as possible and I want customers to not only be safe, but also to feel safe. … We definitely won't be opening the dining room as early as Monday. It just doesn't make sense for us."
Porch Light Latin Kitchen in Smyrna shifted to a takeout model right after St. Patrick's Day, and there are no plans to change that in the foreseeable future.
"Unfortunately, irregardless of what the governor has said, we will continue to operate this takeout business the way we have been doing it," the restaurant's owner, Andre Gomez, told The Dispatch. "It's kind of hard to social distance inside a restaurant. It's borderline impossible, especially in an atmosphere like we have. It's a small restaurant. The tables are pretty close together as it is. And the whole thing about going out to eat is just feeling comfortable and relaxed and enjoying yourself. It'd be kind of hard to try to do that while being socially distant."
"To each his own," Gomez said. "You can go ahead and open your businesses, but you don't have to if you don't feel like it." (Per a Wednesday press release, the Georgia Department of Labor is adjusting unemployment options so workers can return slowly without sacrificing earnings.)
Gomez compared the potential liabilities of opening up too early to serving alcohol to someone under 21. "The risk of somebody getting ill, it's not worth it," he said. "There's too many liabilities, and I'm pretty sure my insurance company's not going to cover it."
Gomez hasn't applied for a Paycheck Protection Program loan because the provision that requires 75 percent of the amount borrowed to cover payroll didn't fit his business, where only a handful of employees work full-time. But the reduced overhead costs—along with generous tips (pooled among the staff)—is helping Porch Light get by. And a partial reopening might just be more trouble than it's worth.
"I have 14 tables. If I were to reopen my restaurant, I would have to remove at least a half of my tables so I could live through those social distancing guidelines," Gomez said. "Or do a set seating, where we're seating people at 6 p.m., we clear the room, reset, rewipe, reclean, and then seat the room again at 8 p.m. And even then, I'd have to do, like, tasting menus where we're having to upcharge."
What would he have to see to resume dine-in services? "Tell me that I don't have to wear a mask! … Much like the health department gives you guidelines on how to set your restaurant up, the temperatures for the cooler, temperatures for the food, so on and so forth, there has to be somebody who needs to tell us how to do it. Right now we're just assuming this is how we should do it. And trust me, everybody is doing the best they can."
Pain & Wonder Tattoo Body Piercing in Athens isn't injecting anyone with ink anytime soon. "Even if we wanted to, we wouldn't be able to open on the 24th," the owner said. "The same things that we use to protect ourselves, medical personnel use to protect themselves. So for us to operate, we have to have access to gloves and masks."
Plus, all their tattoo equipment is produced in China. "We already had a supply chain problem starting in early March because of shutdowns there," she added. "And then the supply chain for us dried up for gloves and masks. So until we're able to re-source those things that we can use to protect the customers, we're not going to be able to reopen."
"I can tell you with some real certainty that anybody that's a body arts business that's going to be open for business on Friday is not going to be doing it safely. Because they can't be."
When Pain & Wonder does eventually allow customers to return, it will be by appointment only. Hand sanitizer will be prevalent. Employees and customers alike will be required to wear masks, which will be on sale for a "nominal" fee. Oral piercings won't be available for a while.
Even businesses outside of urban areas are leery of moving too quickly. Shamrock Bowling Center in Dublin—a town of about 15,000 in the center of the state—posted on its Facebook page that it was staying closed for now. Michelle Roland—who manages the lanes with her stepdad—assumed the regulars would be furious.
"When I put that thing out, I was scared of the backlash that we would get from the people that are like, 'Oh, y'all are just being crazy, this virus isn't a big deal,'" she admitted. "But I did not receive one message like that. I couldn't believe the overwhelming positivity we got."
"Very wise decision. Your community can see you care," one read.
"You have our full support on the decision! And we look forward to seeing y'all when you are ready," said another.
"You know we will be back. You guys are family now," a woman wrote.
"What breaks my heart is the people being ugly to the governor," Roland added. "This decision for this small business was hard enough. I can't imagine a whole state."
With the number of surfaces in a bowling alley, it'd be nearly impossible to keep everything clean. "We'll have to make sure that we sanitize the lane after somebody uses it, and being able to sanitize good enough, because they might use the bowling ball and then put it back…"
Her voice trailed off. "It's going to be a big undertaking," she said with a laugh. "Whenever we do it."
Photograph by Paras Griffin/Getty Images.