A Rare Left-Coast Opportunity for the GOP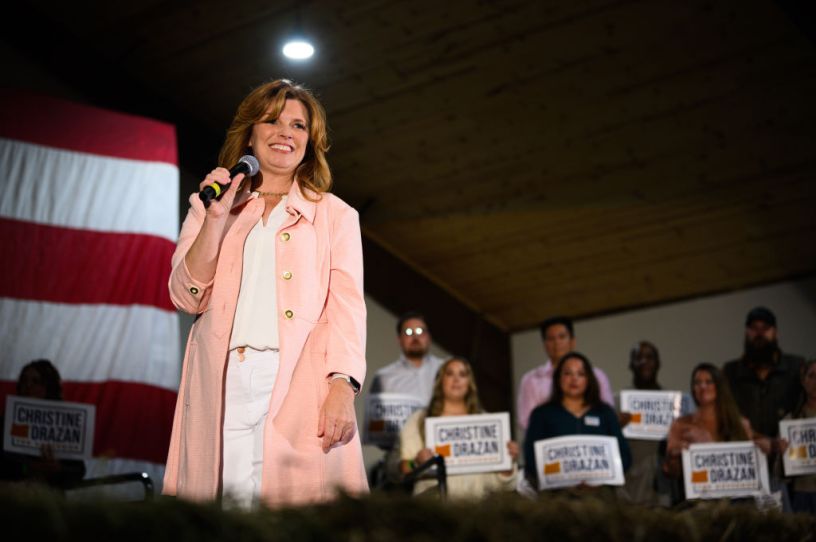 Republican gubernatorial candidate Christine Drazan. (Photo by Mathieu Lewis-Rolland/Getty Images.)
Single-party control has put Oregon on the wrong track, Christine Drazan said at Oregon's final gubernatorial debate Wednesday. "I want to bring Oregon back to balance again and the way you're going to do that, in fact, is to elect a Republican. It's not a hard right, it's called balance."
It's a tall order in a state where Republicans haven't won the governor's mansion in 40 years. Yet Drazan, former minority leader of the Oregon House of Representatives, has put herself in contention with a disciplined campaign and moderate message. A third-party candidate's presence, and former President Donald Trump's absence, have helped too.
Drazan is up against former state House Speaker Tina Kotek, a Democrat, and the unaffiliated Betsy Johnson, a former state lawmaker. Drazan is ahead by around three points, according to RealClearPolitics' average, and Sabato's Crystal Ball and the Cook Political Report rate the race a "Toss-Up." It's not hard to figure out why.
The term-limited Gov. Kate Brown, a Democrat, is the least popular governor in America. The state has a disproportionately high level of homelessness; ranks among the most expensive states to live in; and last year its largest city, Portland, reported a record number of homicides. The city has also been the site of grim clashes between extremist groups.