Albert King: A Centennial Appreciation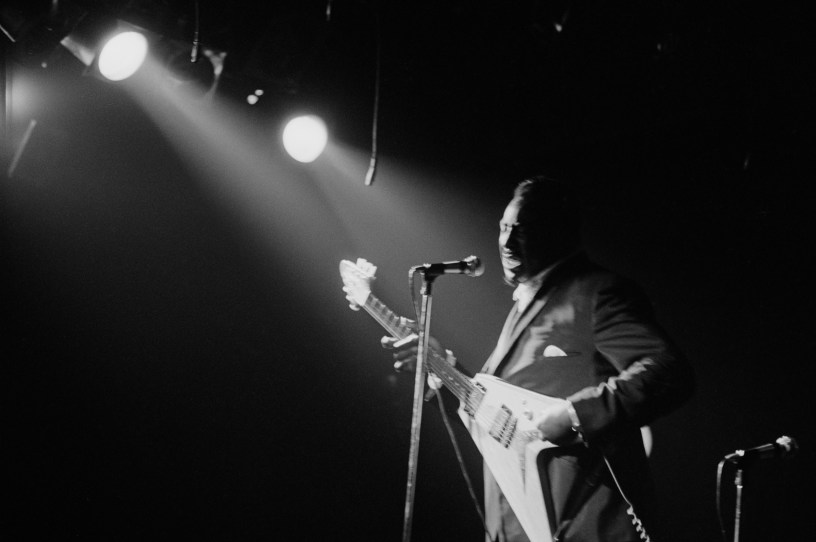 American blues guitarist Albert King (1923 - 1992) performs at the Village Gate nightclub in Greenwich Village, New York City, 11th April 1969. (Photo by Don Paulsen/Michael Ochs Archives/Getty Images)
To hear him tell it, blues musician Albert King was born on April 25, 1923, in Indianola, Mississippi; half-brother to B.B. King, and, like his more famous sibling, a self-taught guitarist who transformed one of America's great native art forms. That last part is certainly true, but Albert was no relation to B.B. His birth name was Albert Nelson, and he was probably born in Aberdeen, Mississippi (150 miles from B.B.'s native Indianola), likely in 1923, but possibly a year later.
Why the fibs about his birth? For one thing, he enjoyed telling tall tales. Everything was larger than life with Albert King. The 6-foot-4, 250-pound, pipe-smoking behemoth worked his way up from a hardscrabble childhood—one of 13 children, he spent his youth picking cotton and doing other manual tasks before he could support himself with music. At one point, he even worked as a bulldozer operator, which was one reason some people later called him "The Velvet Bulldozer." Another was the brilliant contrast between his soothing voice and the wailing notes of his guitar, Lucy (named, he insisted, for comedienne Lucille Ball, not for B.B.'s beloved Lucille). In any case, he found it convenient as a struggling young bluesman in the 1950s to lead the public to think he had some connection to the well-known B.B.
In his 30s, Albert traveled and the Mississippi River Valley, finally ending up in Memphis, where he joined the Stax record label and gained a following with singles like "Don't Throw Your Love on Me So Strong," "Laundromat Blues," and "Crosscut Saw." His insistent, wiry guitar stood out like lightning against a smooth rhythm section, creating a sound that owed much to Texas bluesman T-Bone Walker, but with a brashness miles apart from Walker's elegant crooning. In fact, King's distinctive playing would eventually set the standard for many of the next generation's best musicians, and make him probably the most influential blues musician after Robert Johnson.
Surely nobody who heard them ever confused him with B.B. Where the latter wrought a fine, slightly woody tone and elegant vibrato from his glossy black Gibson semi hollow-body, Albert would stand on the stage, sweat pouring from his face like a monsoon, and wring out of Lucy—a rocket-shaped 1959 Flying V—a voice as insistent as barbed wire and as electrified as a jet engine. He was left-handed, so he played Lucy upside-down—not stringing her as a left-handed guitar, but simply flipping her over—and employed totally idiosyncratic tunings, while hitting her strings with his thumb instead of a pick, because, he said, he got so into the music that he always dropped a pick.
You're out of free articles
Create an account to unlock 1 more articles