Are Latinos the New Swing Voters?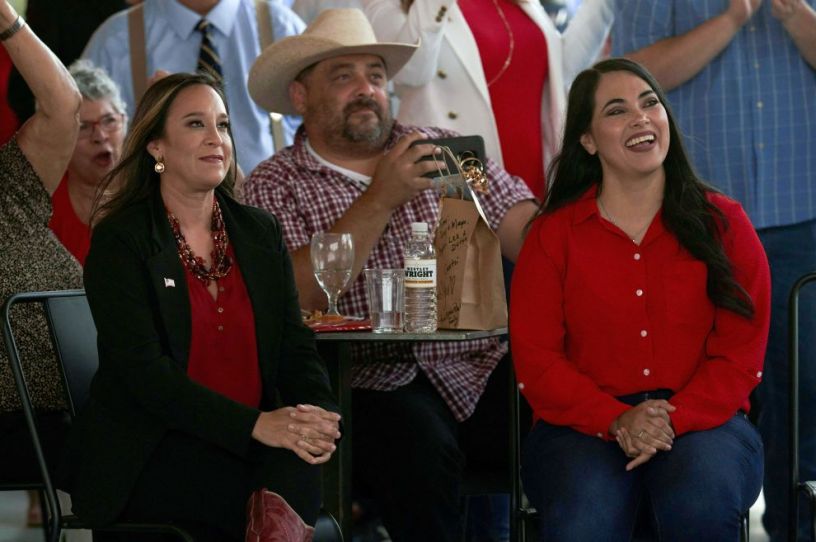 US Republican congressional candidate Monica De La Cruz, left, and Rep. Mayra Flores, right, of Texas, who is running for reelection, attend a campaign event in McAllen, Texas. (Photo by Allison Dinner/AFP via Getty Images)
Mayra Flores' nearly 8-point win in a June special election made her the first Republican to represent her south Texas congressional district in more than 150 years. The first Mexican-born woman elected to Congress, Flores campaigned as a Donald Trump-supporting hardcore conservative, touting her hawkish stances on law enforcement and her husband's work as a U.S. Border Patrol agent.
She's up for election again in November, competing against Democrat Vicente Gonzalez in Texas' redrawn (and now bluer) 34th District after Gonzalez—who has represented the nearby 15th District since 2017—opted to run in a new jurisdiction after the 2020 redistricting cycle. The Cook Political Report rates the race as a toss-up.
A Flores win in November would be "a sure sign that the gains Republicans made among Latino voters in 2020 are more durable and less Trump-specific than Democrats had hoped," Jacob Rubashkin wrote for Inside Elections, a nonpartisan political analysis newsletter.
Though political pundits often lump them together in one bucket, Latino voters in the United States are far from monolithic, running the gamut in terms of socioeconomic status, geographic location, and political persuasion. And with control of Congress hanging in the balance, Republicans hope to dispel the notion that Latinos are a reliably Democratic voting bloc.