Biden's 2024 Tightrope Starts With Border Balancing Act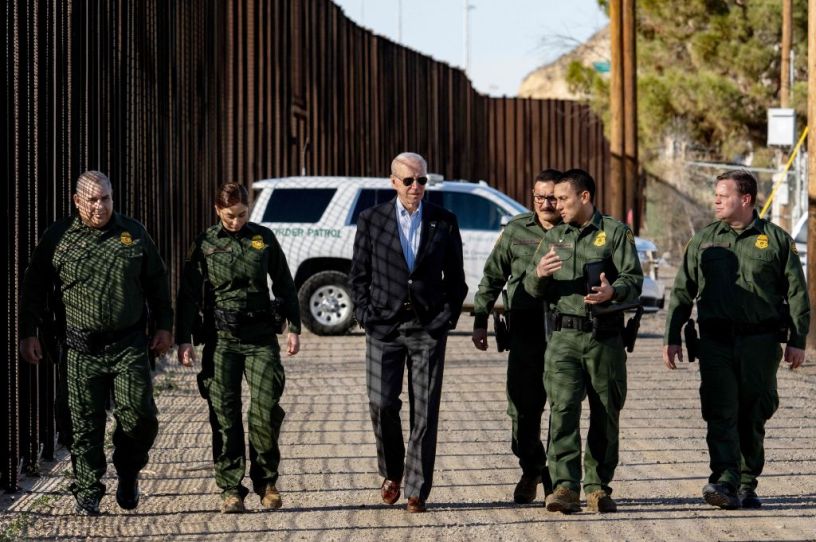 President Joe Biden speaks with Customs and Border Protection at the U.S.-Mexico border in El Paso, Texas, on January 8, 2023. (Photo by Jim Watson/AFP/Getty Images.)
Halfway into his term and just ahead of announcing his re-election bid, President Joe Biden took his medicine Sunday and visited the U.S.-Mexico border for the first time in his presidency.
For two years, Republicans have been goading Biden to visit the border. But he wouldn't have had much to say before now. His administration has relied on a Trump-era pandemic policy that allowed the government to quickly expel asylum seekers, mostly from Central America and South America. It has been a useful tool, practically and politically. Under the auspices of nearly unlimited executive public health authority, Biden was able to battle an ongoing migrant crisis that has little to do with the coronavirus while blaming the pandemic for continuing the policies of a predecessor hated by Democrats.
But Biden, under heavy pressure from the activist left, is now trying to end the use of Title 42 of the Public Health Service Act of 1944 to expel migrants. The Supreme Court is making the president wait a bit at the request of states who sued to keep the rule in place. But it will fall soon, and Biden hopes a new policy announced last week to eject Cubans, Haitians, Nicaraguans, and Venezuelans who cross the border from Mexico illegally will be enough to soften the blow.
Biden finally has a policy of his own, so he had something to say when he went to El Paso. It's just that a lot of folks on his team didn't want to hear it.