Biden's Meeting With Tsikhanouskaya Boosts Belarusian Democracy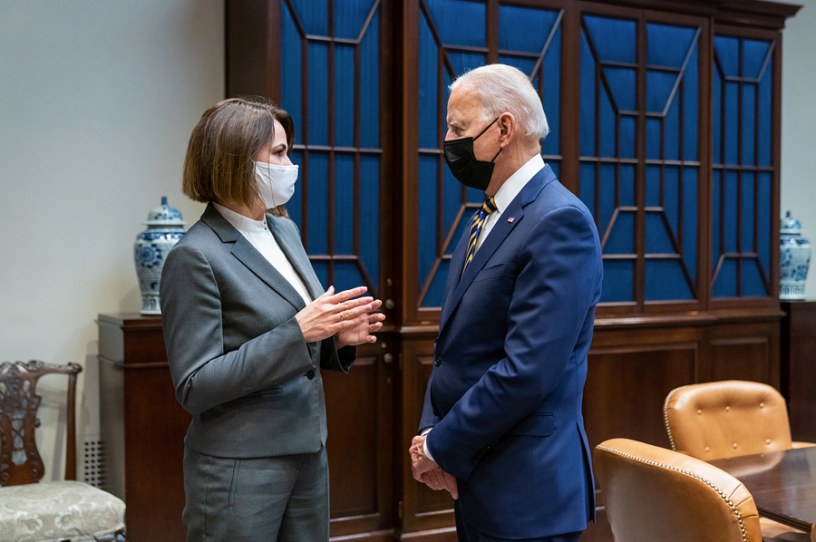 The United States "stands with the people of Belarus in their quest for democracy and universal human rights." So tweeted President Joe Biden after meeting last Wednesday with Belarus democracy leader Svetlana Tsikhanouskaya, deemed by most observers to have been the real winner of last August's presidential election. Aleksander Lukashenko, the country's criminal dictator for the past 27 years, fraudulently claimed victory and then launched a brutal crackdown against peaceful demonstrators. He hangs on to power thanks to support from Russia's like-minded leader Vladimir Putin but continues to pose a risk to those who criticize and challenge him. 
Biden's meeting with Tsikhanouskaya, following meetings she held with other top administration officials and members of Congress, was a huge boost to her efforts and those of her fellow courageous citizens. It reinforces the view that Lukashenko is a wholly illegitimate leader. It also sends a loud signal to Moscow: The United States joins its European allies in standing with the freedom-fighting people of Belarus, in contrast to Putin's propping up of an extremely unpopular dictator next door.
For critics and opponents of Lukashenko, threats abound whether one lives in Belarus or elsewhere. Dissident Roman Protasevich learned this firsthand when his flight from Athens to Vilnius, Lithuania, was forced down, essentially hijacked, by Belarus air traffic controllers and a MiG military jet while flying in Belarus airspace. He and his Russian girlfriend, Sofia Sapega, were forcibly removed from the plane and arrested. After being beaten and tortured, Protasevich was forced to make videos acknowledging the supposed evil of his ways, reminiscent of the Soviet show trials of the 1930s. 
This past Monday, activist Vital Shyshou was found hanged in a tree in a park near his home in exile in Kyiv. Suspicions that he was beaten and then murdered by a Lukashenko hit squad are growing by the hour. That same day, Belarusian sprinter Kristina Timanovskaya sought asylum on the margins of the Tokyo Olympics after Belarusian athletic officials tried to force her back to Belarus following her online criticism of her coaches for entering her into the 4×400 meter relay without her consent. Poland has indicated a willingness to accept her asylum request. Lukashenko's oldest son chairs the country's national Olympic committee.
Keep reading with a free account
Create a free Dispatch account to keep reading
Get Started
ALREADY HAVE AN ACCOUNT? SIGN IN