David Perdue's Campaign Hustle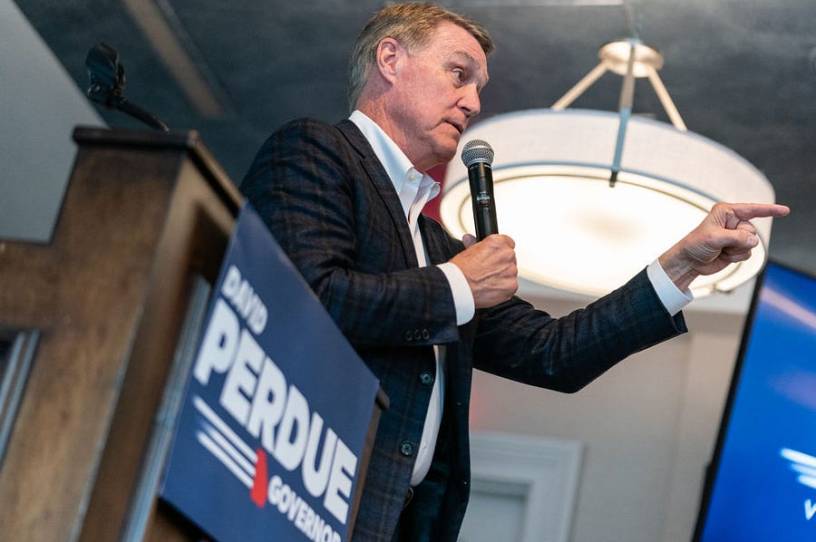 With the close of his Trump-backed insurgency against Georgia Gov. Brian Kemp looming, you can't say David Perdue's not hustling to the finish line. We're less than a month away from Georgia's Republican primary (early voting started this week) and the former senator is in full crunch mode as he crisscrosses the state to make his case to voters: five meet-and-greets by plane one day, four by car the next. Sunday night, the third and final debate against Kemp, whom he hammered as the man who "gave us Joe Biden"; Monday night, a "telerally" with Donald Trump, who predicted a Kemp win would bring dire consequences in the form of another round of Democratic victories in Georgia this November.
Perdue has a reputation as a stiff politician with a particular dislike for the gladhanding of retail politics, but he seems comfortable on the trail this week despite the pace—shaking hands, posing for pictures, sticking close to his talking points, and relentlessly pounding his opponent over his administration of the 2020 election. The beating heart of his campaign, the theme he spends most of his time rehearsing, is the supposed fraud carried out by Democrats in 2020 to deliver the state to Joe Biden—and to sweep both himself and fellow GOP Sen. Kelly Loeffler unexpectedly out of office.
"People broke the law," Perdue says at a Thursday stop in a park in Jackson County. "If you don't enforce the law, then what good is the law?"
During the runoffs of late 2020 and early 2021, Perdue's tepid treatment of Trump's stolen-election claims rubbed some Trump-happy state Republicans the wrong way. Now, he's all in, and the voters who show up to see him and share their belief in one stolen-election narrative or another—unsupervised drop boxes, compromised Dominion voting machines, a suspicious halted vote count in the Atlanta area—walk away assured they've met a kindred spirit.