Depeche Mode Confronts Mortality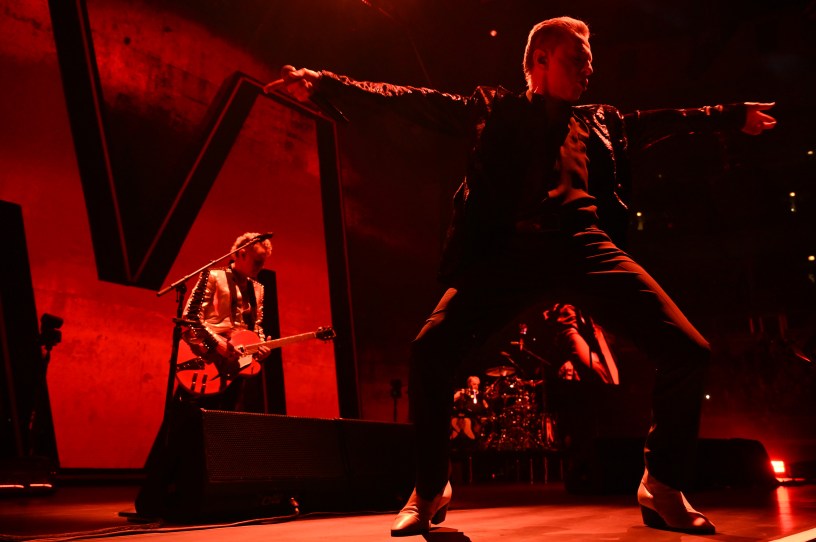 CHICAGO, ILLINOIS - APRIL 05: Martin Gore and Dave Gahan of Depeche Mode perform during The "Memento Mori" World Tour at United Center on April 05, 2023 in Chicago, Illinois. (Photo by Daniel Boczarski/Getty Images)
Memento mori—commonly translated as "remember you must die"—is a phrase ingrained in popular culture. For Depeche Mode, death has been a companion for more than four decades. In the 1980s, as the band built a following and developed its identity, it steadily embraced a sound preoccupied with darkness and the macabre. "I think that God's got a sick sense of humor, and when I die, I expect to find Him laughing," frontman Dave Gahan sang in his typically vibrant baritone on 1984's "Blasphemous Rumors." "Death is everywhere," he'd proclaim the next year, reminding listeners that, like "flies on the windscreen," they could easily be torn apart.
But the group has never been more concerned with mortality than at present. Last year, founding keyboardist Andy Fletcher died suddenly, leaving Gahan and lead songwriter Martin Gore as the only remaining original members. Rather than retiring, they channeled their grief into art, composing a new album permeated by themes of impermanence and loss. The result, Memento Mori, is perhaps Depeche Mode's coldest release to date; a sparse and sorrowful portrait of a band in mourning, replete with musical allusions to past albums and lyrical references to global crises and personal struggles alike. While the album is an emotional work, it's also a stiff and monotonous slog, sorely deprived of memorable melodies and compelling hooks.
Since Exciter (2001), Depeche Mode albums have largely offered the same—a few outstanding tracks surrounded by forgettable fluff. Unfortunately, Memento Mori does little to deviate from this disagreeable template. The songs merge together in a middling haze, showing signs of inspiration only sporadically. Granted, the album does possess a few consistently strong qualities. Gahan's vocals sound richer and more dynamic here than they have in more than a decade, as if his voice has been restored to the soulful peak it reached in the mid-'90s. There's a captivating power to all of his performances, whether he's affecting a wistful croon or an operatic bellow. On "Never Let Me Go," he growls with primordial intensity, while on "Ghosts Again," his delicate trills accentuate the song's melancholic tone. "Time is fleeting, see what it brings," he warbles. "We know we'll be ghosts again."
James Ford's production is also a highlight. The mix is mercifully free of compression, and there's a noticeable amount of empty space between the instruments that adds to the somber atmosphere in a manner that evokes Joy Division's Unknown Pleasures. Every synthesizer, tape loop, and drum track is captured with perfect clarity, and even the simpler compositions are marked by a full, lush sound. "Wagging Tongue" is a prominent example. Driven by a straightforward synth line, with lyrics that follow the rhyme scheme of a children's book, it recalls the playful simplicity of the band's earliest material on Speak and Spell (1981) and A Broken Frame (1982), while other songs are redolent of the long-haired, grunge-rock-goes-goth style of Songs of Faith and Devotion (1993) and Ultra (1997). Gahan and Gore seem to be summing up their discography: more than an elegy to Fletcher, Memento Mori is a reflection on the artistic legacy of Depeche Mode as an entity. But nostalgic gestures and impressive sonics can't distract from a lack of boldness in the songwriting, or the blandness that pervades much of the album.