Fact Check: Did Donald Trump Ever Drop His Support of Kevin McCarthy's Speakership Bid?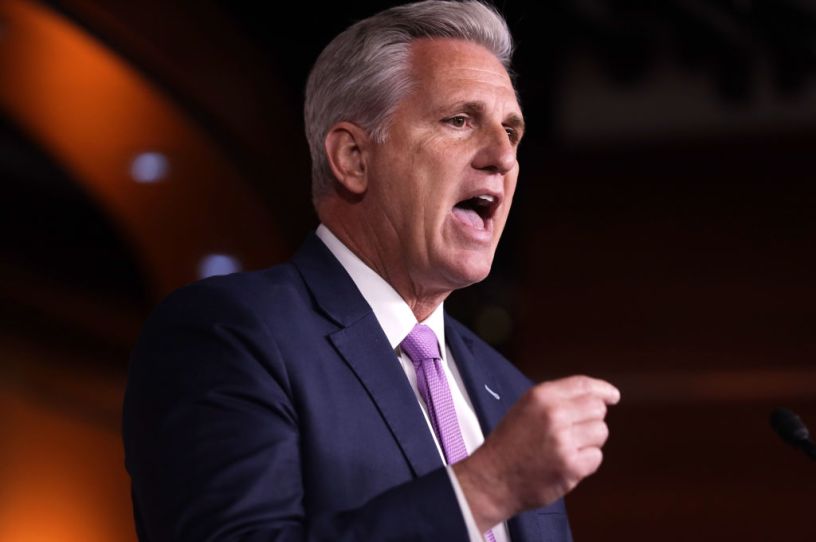 U.S. House Minority Leader Rep. Kevin McCarthy (R-CA) speaks during his weekly news conference on Capitol Hill (Photo by Alex Wong/Getty Images)
A fabricated image purporting to show a statement from former President Donald Trump began circulating online on January 4. The statement declared that Trump was revoking his endorsement of Rep. Kevin McCarthy for the speakership of the House of Representatives and endorsing Rep. Byron Donalds instead. The image is fake, and Trump made no such claim.
The image circulated amid the House of Representatives' prolonged struggle to elect a new speaker. It took 15 votes for McCarthy to win the speakership, with the final vote coming early Saturday morning.
Trump, however, never rescinded his support for McCarthy. On Wednesday, he clarified via his Truth Social account that rumors of his shifting allegiance to Byron Donalds were false.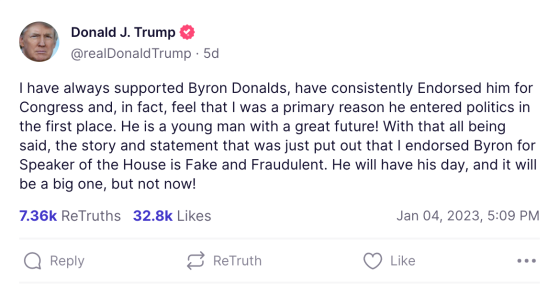 The fabricated post in question even misspells Rep. Donalds' name, calling him "Bryon" instead of "Byron."
Trump had reiterated his support for McCarthy earlier on January 4. There is also no evidence on Trump's website that McCarthy lost his endorsement. All claims to the contrary are false.
If you have a claim you would like to see us fact check, please send us an email at factcheck@thedispatch.com. If you would like to suggest a correction to this piece or any other Dispatch article, please email corrections@thedispatch.com.