Fixing the Local News Crisis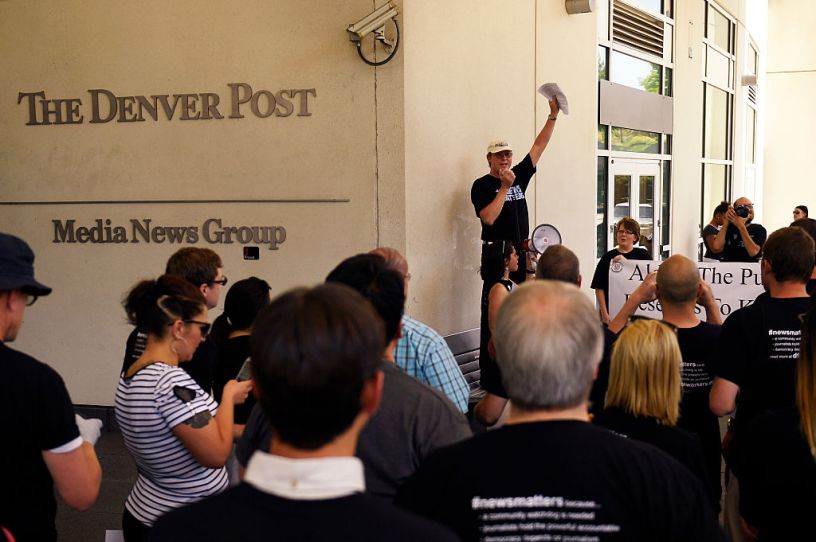 Denver Post employees at a rally to protest staff reductions on June 17, 2016. (Photo By Joe Amon/The Denver Post via Getty Images)
Local news is in crisis.
What was once the lifeblood of the newspaper business—ad revenue—has collapsed, going from $49 billion in 2005 to an estimated $10 billion in 2020. Since that collapse began, more than 2,500—or about 25 percent—of the country's newspapers have closed, according to a 2022 report by the Local News Initiative at Northwestern University, and total newsroom employment has declined by nearly 60 percent. More than 200 of the country's 3,143 counties qualify as "news deserts," meaning they have no access to credible local news. Many of the newspapers that remain run on shoestring budgets, with little meaningful coverage of local issues. Frequent layoffs are commonplace.
The net result in most communities is not just a decline in civic participation, but also a rise in political polarization and even a higher cost of living. One 2020 study found that, "Local newspapers hold their governments accountable, keeping municipal borrowing costs low and ultimately saving local taxpayers money."
Yet amid the decline, some organizations are working to save what remains of local news, funneling money, business support, and reporting staff to local papers, investing in new, nonprofit publications, and exploring ways public policy can stave off the further erosion of local journalism. Will it be enough?