How Hezbollah Collaborates With Latin American Drug Cartels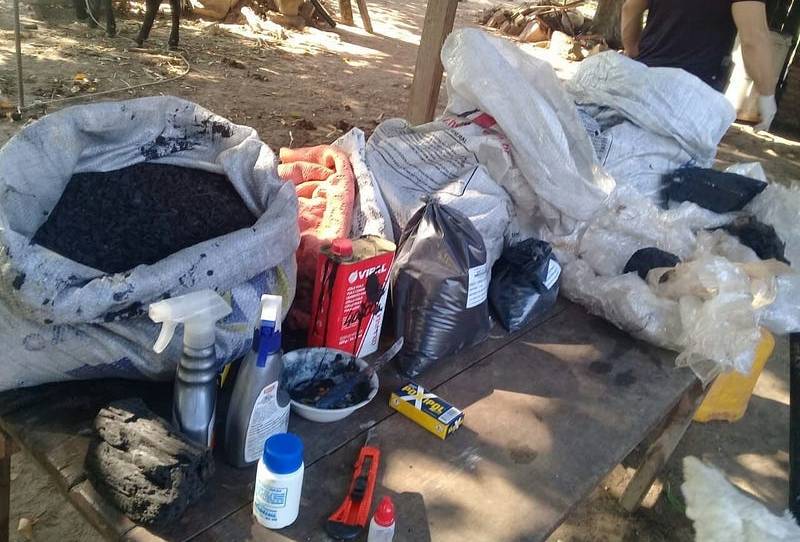 Last month, Dutch authorities raided a lab in a small village where Colombian cartels turned charcoal-camouflaged cocaine briquettes back into drugs. The charcoal that most Americans burn in their barbecues is not the stuff they would normally associate with organized crime, yet evidence is mounting that in recent years charcoal—a key Latin American and African export—is fast becoming a cover to masquerade cocaine. In particular, the Lebanese terrorist group Hezbollah's involvement in moving black cocaine—a term referring to this particular disguise—is well-documented. The global charcoal trade constitutes an ideal cover for drug smuggling and terror finance.
Drug traffickers constantly devise new ways to conceal drugs. Black cocaine—the compound used to turn cocaine into charcoal briquettes—needs to undergo a chemical process in order to appear similar to the actual product, before traffickers hide it at random in larger bags of authentic charcoal. Sometimes cocaine is hidden inside large chunks of charcoal, but increasingly, traffickers shape the cocaine like charcoal briquettes and color it black, requiring chemical engineers at both ends of the trade. Once the disguised cocaine is delivered, experts transform it back to powder before it hits the streets. It is an ingenious cover.
Authorities have seized black cocaine shipments for years. In March 2012, Spanish and Portuguese police seized 380 kilograms of cocaine disguised as charcoal in a cargo from Argentina. In May 2013, Spanish authorities seized 50 kilograms of cocaine hidden in charcoal bags coming from Latin America through the Spanish port of Valencia. Peruvian authorities seized a record six tons of cocaine hidden in a cargo of charcoal in August 2014. In December 2014, Spanish authorities again seized 390 kilograms of cocaine in Santiago de Compostela. The charcoal came from Paraguay. In March 2015, Guyanese authorities found cocaine hidden in a US-bound 40 feet container of charcoal bags. Colombian authorities seized 306 kilos of coca paste disguised as charcoal in Barranquilla, on April 10, 2015. In June 2015, Colombian authorities seized another 634 kilograms of cocaine disguised as charcoal briquettes, whose destination was Belgium. Two of the containers were seized in Barranquilla, again, and the third in Cartagena. In February 2016, Spanish authorities in Valencia raided a lab in charge of separating cocaine from charcoal. In February 2017, Australian authorities seized cocaine and amphetamines hidden in charcoal worth $186 million Australian dollars. In January 2019, Canadian authorities seized almost five kilograms of cocaine hidden inside bags of charcoal in transit from Panama to Israel. And in September 2019, Malaysian authorities seized twelve tons of cocaine hidden in charcoal bags.
Policymakers should worry about charcoal exports for a variety of reasons. Its production is one of the many factors driving deforestation in both Africa and Latin America—especially Paraguay, the seventh-largest exporter of charcoal in the world with a 3.6 percent share of the global market. Even if it weren't contributing significantly to climate change, it's also a cover for drug trafficking. Perhaps most ominously, evidence ties this activity to Hezbollah financiers who, in the past, used charcoal shipments from Latin America as a cover for cocaine.