Kemp's Stand in Georgia a Titanic Test of Trump's Clout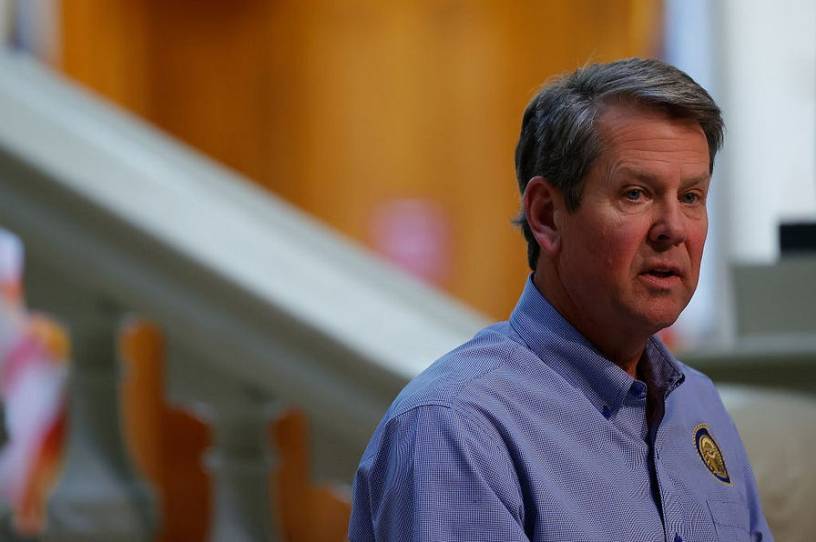 You know that whenever a politician or a partisan starts talking about the "most important election in history" yadda, yadda, yadda, what they generally really mean is that it's the most important one for them.
For a country that has conducted a presidential election during a civil war, it was more than a little hysterical to say that deciding which septuagenarian white dude from the Mid-Atlantic would become president was the most important election ever. But in 2020, and many recent elections, the hype became self-fulfilling. As intensity grows on each side, it is mirrored by the other. By the end, people have convinced themselves that if the other side wins, it's all over now, baby blue.
In America, we should always remember that the most important election is the next election. The promise of continuity in government, the stability of the system, and the chance to remove the leaders we have previously installed is what keeps our government accountable and helps secure our liberty.

But, that does not mean that all elections are equally important. Indeed, in this midterm year, there is one contest that stands out above the others, certainly among primary contests: Georgia's gubernatorial matchup on May 24.

First, a little backstory for folks who have not followed Georgia politics closely in recent years. In 2018, Georgia Secretary of State Brian Kemp defeated Lt. Gov. Casey Cagle in a bitterly contested gubernatorial primary. Kemp ran as the hardcore, Trump-style populist and finished a distant second to conservative Cagle. But Georgia's runoff law then pitted the two against each other, allowing Kemp to soak up support from the backers of four minor candidates and run as the Trumpy alternative to the genteel Cagle. Trump endorsed Kemp and then-Vice President Mike Pence campaigned for him just before the July runoff.
Kemp exceeded all expectations and smashed Cagle, which was perceived as a powerful show of strength for Trump, who had stumbled at the end of the previous year in neighboring Alabama. Voters there rejected Trump's endorsee in a special Senate election and instead chose political pariah Roy Moore. When Kemp held on to win in November against Democrat Stacey Abrams, it further solidified the new governor's status as a star player in MAGA world.

But in 2020, when Trump became the first Republican to lose Georgia in 28 years, things changed quickly. Trump tried to browbeat Republican officials in most of the swing states he lost to try to help him steal another term. Gov. Doug Ducey in Arizona had to dig in his heels despite enormous pressure, and so did Republican lawmakers and county officials in Michigan, Wisconsin, Pennsylvania, Nevada, and elsewhere. While a few Republican officials in these states actually tried to go along, by the time Trump and his gang had figured out their pressure play, it was too late. But nowhere did Trump apply the pressure as intensely as Georgia, and for good reason.

Georgia had a Republican legislature, secretary of state, attorney general, and a popular Republican governor in Kemp. If Trump could get just one state to invalidate its election returns or play along with whatever Rudy Guiliani and Sidney Powell were pumping out at the moment, it could could provide time and uncertainty for their wrecking crew to get more senators to sign on to trying to steal the election in Congress on January 6, 2021. If Georgia could just muddy the water, it could provide cover to crack the Constitution.

Trump came hard after Georgia Secretary of State Brad Raffensperger, telling him to "find 11,780 votes" to surpass President Biden's total in the state or possibly face "a criminal offense." Raffensperger refused, but to Trump's even greater apparent frustration, Kemp backed him up. A former secretary of state himself, Kemp refused to call the special session of the state legislature Trump demanded so lawmakers could try to seize control of the process. Kemp stood by the results and earned the eternal hatred of the soon-to-be former president.

Trump has campaigned in person against Kemp, a "complete disaster on election integrity," and helped recruit a big-name challenger to take him on: Former Sen. David Perdue. Now, there's a little poetic justice here since Perdue would still be in the Senate if Trump hadn't ruined the 2021 Georgia Senate special elections for Republicans by making the races part of his election swindle effort. But Perdue, part of one of the state's most influential political families, hopped in the race in December to try to take down Kemp.

But so far, it's not working. Trump is heading to Georgia on March 26 to hold a rally for Perdue, where the former president will no doubt reinforce his attacks on Kemp over the 2020 result. That's to be expected. What wasn't expected was that Perdue would make the same backward-looking resentments the focus of his own campaign. The one plausible argument Perdue might have made was that he would fare better against Abrams in her repeat run than Kemp. Perdue might have argued that he could unite Republicans by staying above the fray of the 2020 question, but Perdue dove in headfirst. Plus, with Abrams looking like a much weaker contender this time around, even the electability argument might have been a stretch.