Man's Best Friend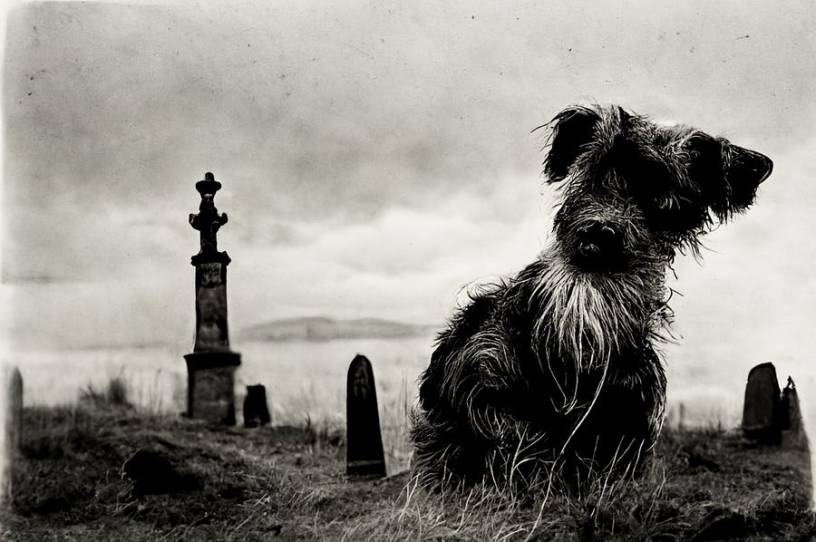 There appears to be something online called a "Fame Meter." It offers various "most famous people" lists: the most famous people who were born today, or who were born on your birthday, or who died in a given year. Apparently the year 1872 was a bad year for famous people dying (a rather inelegant way of putting it), meaning that "not many famous people died in this year versus people who died in other years." If the Fame Meter is to be believed, the most famous person to have died in 1872 was Benito Juárez, a former Mexican president, which would indeed qualify it as a weak year. Still, scanning the list, one sees little reason to quibble with the overall claim that 1872, all things considered, was a good year to be alive if you happened to be a famous person.
Yet one rather famous death does not make the list at all: Greyfriars Bobby also died 150 years ago. Some readers may know of Greyfriars Bobby—Scotland's most famous dog—from a 1961 Disney film of that name. Others may know him as the hero of the book on which Disney's movie was based, Eleanor Atkinson's 1912 novel Greyfriars Bobby. I no longer read many dog books, though as a teenager I devoured the novels of Albert Payson Terhune, a prominent collie breeder who wrote popular stories, mostly about some of his own dogs, which left me longing (in vain) for one of my own. From Terhune I learned the important bit of life wisdom that "a collie down is never a collie beaten."
Based on a true story, Greyfriars Bobby tells of a Skye terrier, Bobby, whose master, a poor shepherd named Auld Jock, was released from work and went to the city of Edinburgh, where he quickly fell ill and died. The grieving Bobby then snuck into Greyfriars Kirkyard, where Auld Jock was buried, to watch over the grave. Despite one challenge after another—attempts to reclaim him by his actual owner, the farmer for whom Auld Jock had worked; repeated efforts to expel him from the kirkyard, where no dogs are allowed; a mean-spirited plan to seize him for not having a proper license; and even getting locked inside the grounds of Edinburgh Castle one night, high above the city on Castle Rock—the faithful Bobby returns night after night. 
The handsome and good-tempered terrier is happy enough to play with the poor children of the city's tenements, whose hearts he quickly wins, and to be fed by the kind and sagacious innkeeper, Mr. Traill. But Bobby is unwilling to sleep anywhere but on Auld Jock's grave. Eventually his loyalty is rewarded when the city's Lord Provost gives him a license, a collar, and the run of the city, and Lady Burdett-Coutts erects a statue in his honor across from Greyfriars. (The statue still stands.)
Get every newsletter and all of The Dispatch. Support quality, fact-based journalism.
Get Started
ALREADY HAVE AN ACCOUNT? SIGN IN