On the Water With Boaters for Trump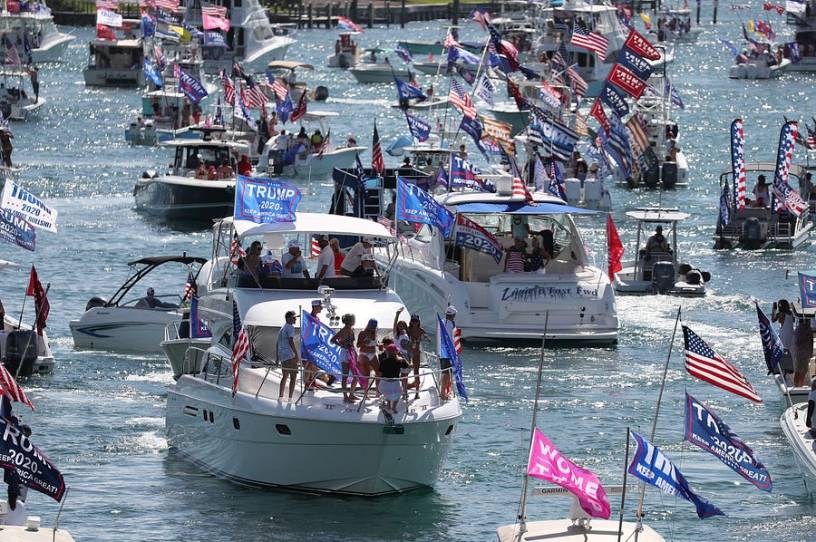 REEDVILLE, Virginia—It is a breezy fall afternoon, and I'm standing on the bow of a 48-foot catamaran near the mouth of the Great Wicomico River. From this privileged position, I count the boats coming up from the marina: a cobbled-together collection of dinghies, cabin cruisers, runabouts, and a lone jet ski—all parading for the greater glory of President Donald Trump.
There are exactly 120 of them, bobbing in the chop. Most are decorated with the Stars and Stripes, the Gadsden, and Make America Great Again flags. A few rebels hoist the Confederate flag. My own vessel, Mojo, is flying several custom-made Boaters for Trump banners. Their designer, Dan Draper, helms her, making him the de facto leader of this fleet.
Draper is one of the original boaters for Trump. A Georgia resident in his mid-50s who spends his free time in the Virgin Islands, he and his wife, Lauren, found themselves caught stateside earlier this year because of the coronavirus pandemic. It was an ordeal (and in Draper's opinion, a "crock of shit"), but like nearly everyone else, they bore lockdown through the spring with a grimace.
In late April, a Florida incident caught Draper's eye. Carlos Gavidia, a boat owner in Palm Beach County, held a 1,500-boat Trump rally near the president's Mar-a-Lago resort. It was flashy, fun, and totally a fluke. Gavidia only planned the event to stick it to his homeowner's association, which did not allow flag-flying—including the gigantic MAGA flag waving off the back of his 42-foot center console. So he rebelled. He renamed his vessel "Trump," wrapped it in patriotic colors, and invited anyone with a boat and MAGA flags to take over the Intracoastal Waterway.