Robert Hayden, the Poet Who Would Not Be Canceled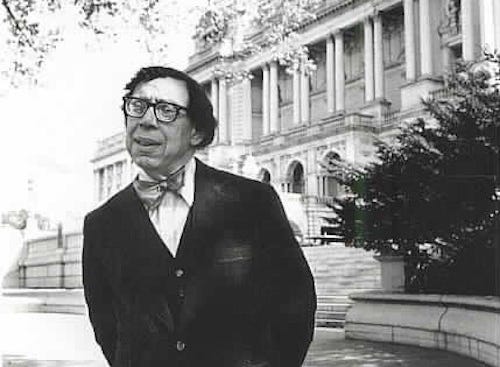 Robert Hayden was a writer of astonishing skill—a poet with "perfect pitch," as the New York Times described him in 1976, the year he became America's first black poet laureate. He wrote with such meticulous care that he published relatively little—his Collected Works falls short of 250 pages—but almost every piece sparkles with the precision of a cleaved diamond, words and meter falling into place with fine inevitability. 
Consider his most famous poem, "Those Winter Sundays." A moving ode to his foster father, with whom he had a contentious relationship growing up, its final two lines hit so exact a note of wistful appreciation that it has become a perennial Father's Day favorite. Or take his sonnet in honor of Frederick Douglass, with its honed phrases and pauses. Rarely has a poet so expertly captured the essence of an historical hero. 
That poem was only one of many he composed about black American historical figures—including everyone from Phillis Wheatley and Crispus Attucks to Bessie Smith and Malcom X. He hoped to assemble these into a longer work called The Black Spear, in answer to a passage in Stephen Vincent Benét's book-length Civil War saga, John Brown's Body. Benét had paused in his dramatic poem—which features almost entirely white characters—to note that he could not write the "blackskinned epic" of slavery's demise because he had "too white a heart." He predicted, however, that "some day, a poet will rise" who would write such a poem, and that it would "be a match for any song / Sung by old, populous nations in the past." Hayden never managed to complete The Black Spear, but the poems he did write about slavery, freedom, and Jim Crow—especially "Middle Passage" and "Runagate Runagate"—are so extraordinary in their blend of history and drama, and so utterly American in their sensibility and sound, that they give good reason to think the finished work would have compared well to Benét's own:
Moon so bright and no place to hide,
the cry up and the patterollers riding,
hound dogs belling in bladed air.
And fear starts a-murbling, Never make it,
we'll never make it. Hush that now,
and she's turned upon us, levelled pistol
glinting in the moonlight:
Dead folks can't jaybird-talk, she says;
you keep on going now or die, she says.

Wanted     Harriet Tubman     alias The General
alias Moses     Stealer of Slaves….

              Come ride-a my train

                           Mean mean mean to be free.



Yet while Hayden focused much of his attention on the sufferings and triumphs of black Americans, that wasn't enough for some of his contemporaries, who, in April 1966, began denouncing him for refusing to write black nationalist propaganda.