Teachers Unions Have Kept Schools Closed. Now They Want More Money?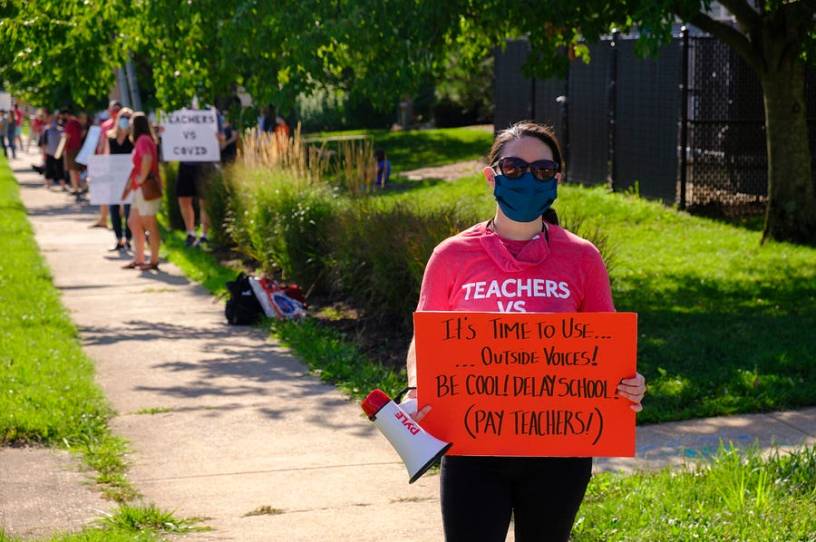 Since March, millions of students have been out of school. Nearly half of the nation's 50 largest school districts haven't yet reopened or are only now planning to do so. Hybrid reopening plans have been a start-and-stop, hit-and-miss endeavor. Given the mounting evidence that the public health risks of reopening schools are modest and manageable, it's no surprise that parents are growing more supportive of in-person schooling. 
Here is a moment for educators to rise to the challenge: to insist that schools safeguard the well-being of staff but also that they find ways to serve their charges. Unfortunately, a rather different narrative has taken hold. Indeed, last week, El Paso teacher Lyn Peticolas took to Education Week—K-12 education's newspaper of record—to publish an op-ed titled "What Demands to 'Open Schools Now!' Sound Like to a Teacher" in which she ardently denounced the "coronavirus-deniers" who hurl "vitriol" at school districts for not reopening. 
Utterly ignoring that thousands of private schools have reopened without incident, that many thousands of public schools have safely opened their doors, or the grave concerns about remote learning, Peticolas waxes enthusiastic about the miracles of virtual teaching before declaring that the "sole aim" of those seeking to reopen schools "seems to be to cause strife and unrest." She goes on, at great length, to explain how overburdened and underappreciated teachers are.
Indeed, the notion that only the callous and the cruel would ask teachers to return to school has become something of a meme in the edusphere. As an CNN op-ed by teacher Elana Rabinowitz proclaimed, "I teach public school. I love my students. I don't want to die." In a tack that must surely have prompted an eye-roll or two among some of the nurses or first responders busy working a second shift as homeschool parents, Rabinowitz thundered, "We want to be there for the kids, especially now. But who will be there for us—the educators? The ones who … are literally being asked to risk our lives so the economy could go back to normal?"