Temporary Protected Status for Venezuela, Explained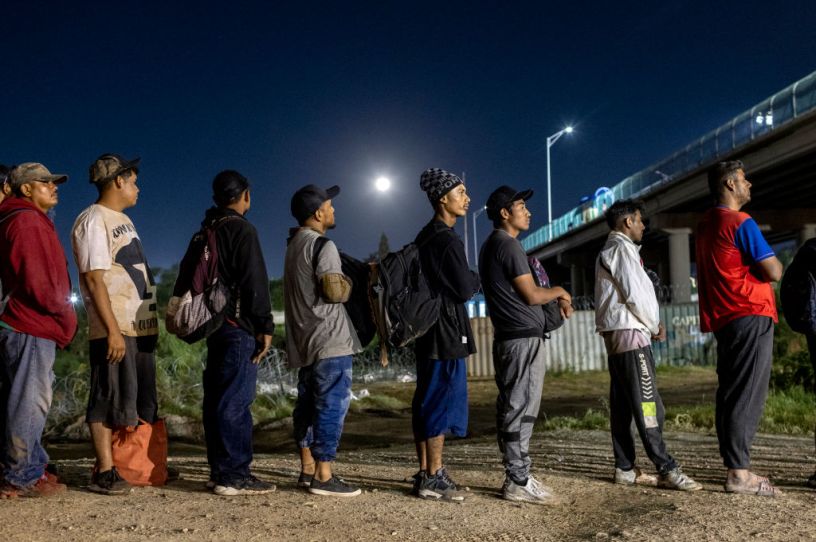 Venezuelan immigrants stand in line to be processed by U.S. border agents early on September 29, 2023, in Eagle Pass, Texas. (Photo by John Moore/Getty Images)
The Biden administration has redesignated and extended Venezuela for Temporary Protected Status (TPS), Secretary of Homeland Security Alejandro Mayorkas announced last month. The move means almost 500,000 Venezuelan migrants who arrived in the United States on or before July 31 may be eligible to live and work in the U.S. without risking deportation, joining almost 250,000 migrants already benefiting from the status.
What is Temporary Protected Status?
TPS, first established in the Immigration Act of 1990, is an immigration designation for countries experiencing certain temporary and dangerous conditions, including ongoing armed conflict, an environmental disaster or epidemic, or other "extraordinary and temporary conditions," according to the U.S. Citizenship and Immigration Services. More general adverse circumstances, such as poverty, are not enough to warrant a TPS designation, Elizabeth Jacobs, director of regulatory affairs and policy for the Center for Immigration Studies, tells The Dispatch.
TPS may be designated in periods up to 18 months, during which time eligible migrants may not be deported from the U.S. and are able to work legally here. The designation extends only to migrants who have been physically present in America before a certain date—a provision intended to prevent TPS from acting as a "pull factor" for illegal immigration, Jacobs says.
You're out of free articles
Create an account to unlock 1 more articles