The GOP Takes an Immigration Victory Lap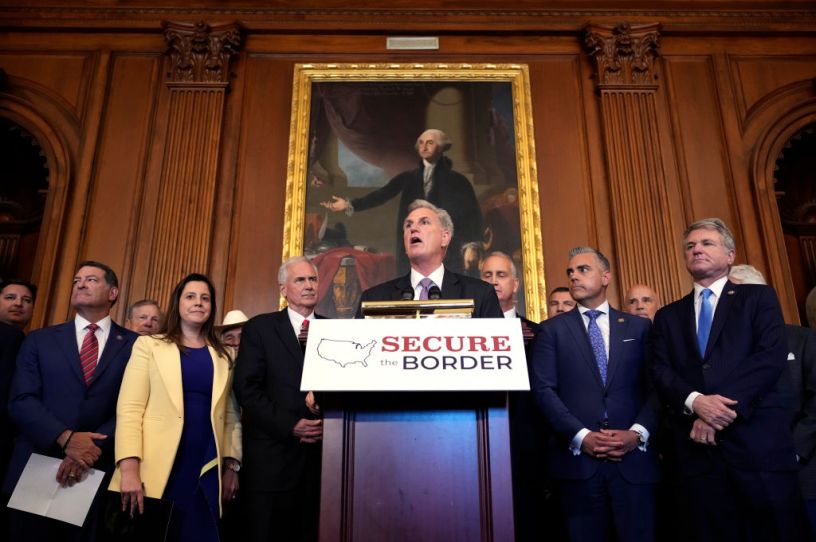 Speaker of the House Kevin McCarthy speaks alongside fellow Republican lawmakers after the House passed the Secure the Border Act Thursday. (Photo by Drew Angerer/Getty Images)
Republicans on Thursday passed their Secure the Border Act, an expansive 213-page immigration package that codified much of former President Donald Trump's policies to limit immigration. But last-minute uncertainty again showed party leaders' challenge in managing their slim majority as debt ceiling deadline and high-profile government spending talks loom.
The border bill cleared the chamber by a 219-213 vote. All Democrats voted against the measure, while two Republicans also defected: Reps. Thomas Massie of Kentucky and John Duarte of California. The bill would fund restarting construction on a physical border wall along the U.S.-Mexico border, beef up surveillance and technology at ports of entry, codify the "Remain in Mexico" policy, and implement employment eligibility verification, among other changes.
The vote coincided Thursday with the Biden administration allowing the expiration of Title 42, pandemic-era border restrictions that had been key to allowing the administration to manage the flow of migration at the U.S.-Mexico border. The Trump administration first wielded Title 42 to turn back migrants without hearing their asylum claims, a policy the Biden administration continued to some Democrats' chagrin.
The House GOP conference was almost entirely unified behind their bill, but the route to passage was anything but straightforward. The vote came after months of delay and suspense in the 48 hours prior to its floor consideration: Republican Rep. George Santos got arrested, complicating the numbers for leadership, and a slew of policy complaints from other Republicans threatened to derail the effort.