The Threat of an Emboldened Iran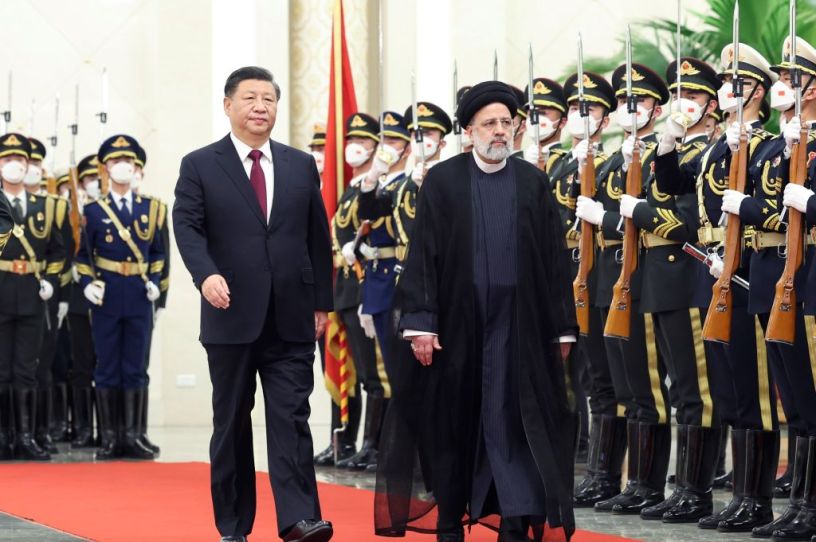 Chinese President Xi Jinping holds a welcoming ceremony for visiting President of the Islamic Republic of Iran Ebrahim Raisi in February 2023. (Photo by Pang Xinglei/Xinhua via Getty Images)
The Palestinian-Israeli conflict shows no signs of abating: Two distinctly different peoples with mutually abrasive cultures wanting the same land don't become friendlier with time. Israelis and Palestinians will continue to co-exist unpleasantly with frequent outbursts of violence. But the existential conflict between the larger Arab world and Israel has petered out. That leaves the Islamic Republic of Iran as the one Muslim state that has a pretty ardent desire, though not the means, to off Israel.
Arab societies are too weary, fragile, and intellectually transformed to sustain the secular, anti-Zionist ideologies born during European colonialism and the Cold War. America's retrenchment in the Middle East and the concurrent rise of Shiite Iran brought on the Abraham Accords: The Sunni Arab rulers in the Gulf, who'd done much to fuel anti-Zionism and militant Islam, had more pressing concerns than the Palestinians.
But the duel between Iran and Israel is intensifying.
The Biden administration clearly wants to believe that some new nuclear deal with Tehran could calm the Middle East but it wouldn't. Israeli and Iranian calculations toward each other would remain essentially the same. And Iran's supreme leader, Ali Khamenei, has clearly told Washington that nuclear negotiations are over.
Get every newsletter and all of The Dispatch. Support quality, fact-based journalism.
Get Started
ALREADY HAVE AN ACCOUNT? SIGN IN