'The Worst of Our Worst Nightmares'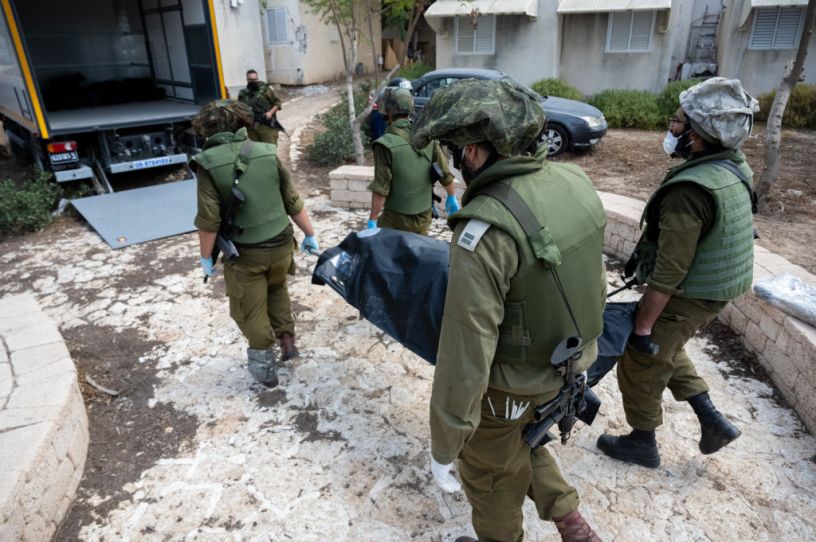 IDF soldiers remove the bodies of civilians who were killed in an attack by Hamas in Kfar Aza, Israel. (Photo by Alexi J. Rosenfeld/Getty Images)
Michal Uziyahu calls herself one of the lucky ones. When Hamas' terrorists fanned out for their attacks into Israel Saturday, some communities were able to fight back. Hers was one of them.
The 46-year-old mother of three lives with her husband in Ein HaBesor—a cooperative farming community known as a moshav—in southern Israel, about 9 miles from the Gaza Strip.
At 6:30 a.m. Saturday, they awoke to massive explosions and ran for the shelters built for such attacks. "Since we live on the troubled border, we always had emergencies," she told The Dispatch in a phone interview. "You know, rockets here and rockets there." But Saturday's attack was something else entirely.
First responders and residents from the moshav barricaded its gates and armed themselves with handguns, and for more than 24 hours staved off perhaps more than 10 armed terrorists by themselves. "Saturday, we went through a massacre. They slaughtered us. They didn't go there to attack soldiers. They slaughtered children and women and men," she said, her voice breaking. "You know, for us, this is the worst of our worst nightmares."
You're out of free articles
Create an account to unlock 1 more articles