What Is Behind the Uptick in Terror Attacks In Israel?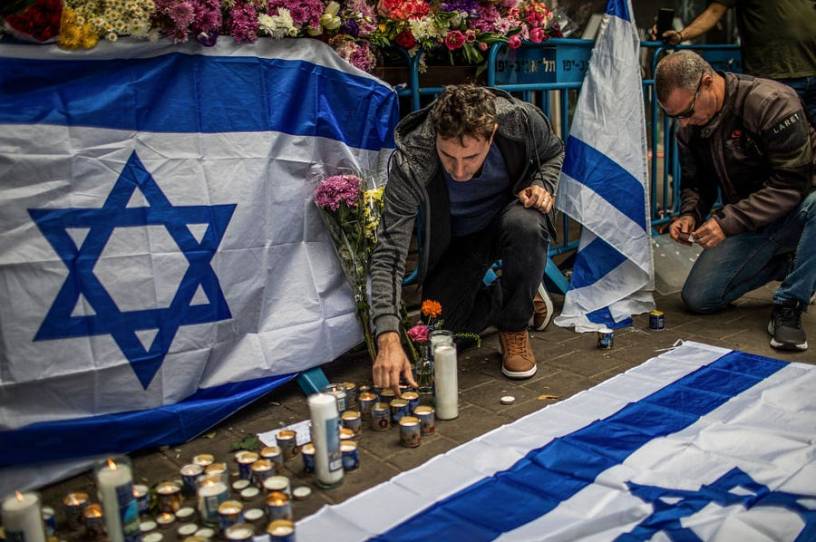 Seven terrorist attacks in the last six weeks have left 19 Israelis dead. Some attacks were beyond gruesome, with the attacker wielding an ax. Others were shootings in crowded city cafes. In one attack, a man shielded his fiancée and died in the act. In another, a teen girl was motivated by the death of her boyfriend to stab a Jew. Israeli authorities expect the terror wave, the worst in many years, to continue. The perpetrators have all been arrested or killed, but Israeli authorities expect there are more to come.
Experts agree that there is no one theme, no one group that can claim responsibility. Hamas, the U.S.-designated terrorist group that governs Gaza, celebrated each murder, but the Jerusalem government hasn't fingered the group for plotting attacks. ISIS took credit for another. In the United States, these might be called "lone-wolf" killings, though the presence of so many terrorist groups around Israel—Hamas, Palestinian Islamic Jihad (PIJ), Hezbollah, al-Qaeda, and ISIS, all generically promoting violence—renders the label pointless. To the dead, sponsorship is not really the point. So what's behind the uptick in killings?
Some have fingered Palestinian anomie, or worse yet, Sunni anomie: losing wars, terrible leaders, failed battles for supremacy, democracy, everything. Others have blamed Ramadan, the Islamic holy month, traditionally (though hardly Quranically) a time of increased violence. Traditionalists have cast the Israelis as the villain, with heavy handed interventions on the Temple Mount in the wake of Palestinian violence and the usual tension between Arabs and Jews. Still others have harked back to the Sheikh Jarrah controversy—a mundane Jerusalem housing matter that escalated into a symbolic battle for ownership of Jerusalem. It contributed to last year's 11-day war and tensions are still simmering. Many also believe that increased incitement over social media, including Telegram, Facebook, WhatsApp, and other platforms has encouraged young men to kill. It will be worth keeping an eye on whether the shooting death of Palestinian American journalist Shireen Abu Akleh on Thursday will inflame tensions further. Akleh was killed while IDF forces were exchanging gunfire with armed Palestinians near the Jenin refugee camp, though it's unclear whether her death was caused by IDF or Palestinian fire.
If all of this feels like the same story, different day, in the endless Israeli-Palestinian conflict, there's a reason for that. The so-called peace process is done for, with even the Democratic Biden administration—normally a haven for peace processors—preoccupied with inflation, immigration, crime, Russia, Ukraine, China, Taiwan, everything but the Middle East. A proposed visit by the president to East Jerusalem, once (and perhaps again) home to a U.S. consulate and de facto "embassy" to Palestine, is unlikely to shake things up.