What Makes People Fall for QAnon?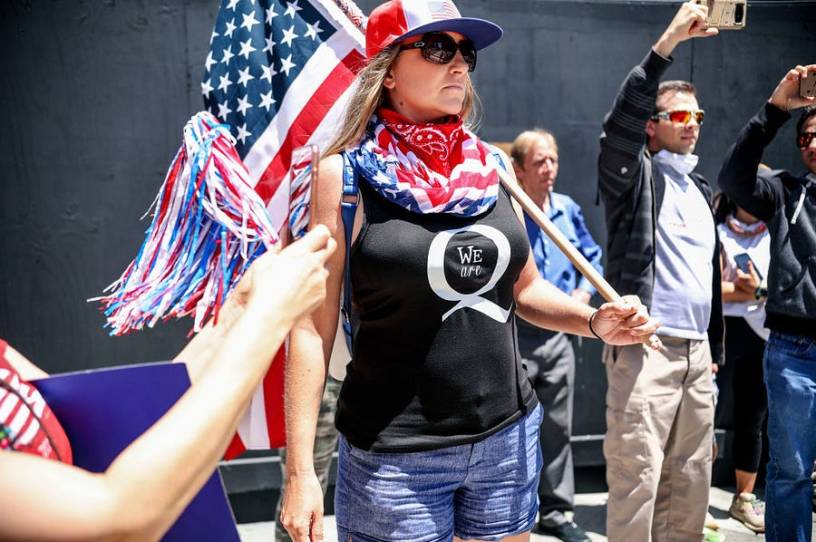 "I have three best friends here in the Seattle area, and one of them just fell down that rabbit hole," said Seattle resident Cindy Roberts. "She really thinks that there are hundreds of thousands of kids being trafficked, and that Donald Trump is going to save them. My take is this: She just beat breast cancer last year, and that's a hard thing to happen, and things are getting better. But it's like she just wants to be this warrior."
Like countless other Americans whose loved ones have become hypnotized by QAnon—the conspiracy movement that believes a cabal of Satan-worshiping deep state actors are out to get Trump—Cindy Roberts now fears her friend is past the point of no return. "She just acts like we aren't woke enough to get it, you know?"
The Twitter account @SupportQAnon—which bills itself as a "support group for family members of people in the qanon cult & those who have left it"—has been a comforting place for individuals who have watched love ones fall prey to the messaging fromQAnon. Others have found solace in the subreddit "r/QAnonCasualties," where people share personal stories about their experience: "Qparent Now Thinks Democrats are Nazis," says one post, and "Writing a letter to my Dad about losing him to the qult; should I be pulling punches?" reads another.
These groups certainly provide some sense of support, but they still leave people wondering: How can their ordinary and seemingly rational friends, neighbors, or loved ones actually believe that Hillary Clinton sacrifices chickens to pagan deities in her backyard? Or that Tom Hanks tortures children so that he can harvest"adrenochrome" from their blood? QAnon has been around for just a few years, but it has gained traction online precisely because it plays on psychological phenomena that have been around for millennia. 
You're out of free articles
Create an account to unlock 1 more articles