While Hogan Leads on COVID Testing, Trump Stews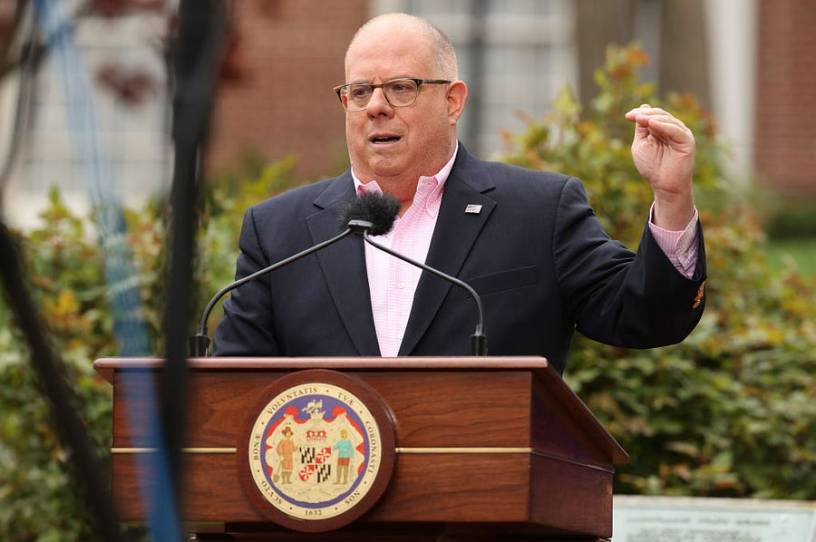 Annapolis, Maryland—
Gov. Larry Hogan began his remarks precisely as the bells of St. Anne's Parish in downtown Annapolis rang in the 2 p.m. hour. Facing a small gaggle of socially distanced reporters and flanked by advisers and dignitaries wearing a variety of face masks—from home-sewn patterns and standard-issue medical covers to a Western-style bandit look—Hogan shared big news. After 22 days of emergency diplomacy between his state and the government of South Korea, Maryland had obtained enough kits for the state to quickly produce 500,000 much-coveted coronavirus tests. 
Hogan's wife, Yumi, a Korean-American, had kicked off the discussions—in Korean—on March 28. With a 13-hour difference between Annapolis and Seoul, the negotiations took place at all hours of the day and night. But on Saturday, a Korean Air passenger jet landed at Baltimore-Washington International Airport with the goods and Hogan and his wife were there to greet it.
The governor's press conference was a crisp 20 minutes. A brief statement, some quick thank yous, a few questions—and out. He described the challenge, laid out the steps he'd taken to address it, and previewed next steps. When he took questions, his answers were short and direct, but efficient. He avoided discussions of his poll numbers, his political enemies, and his television ratings. And he managed to engage reporters without name-calling or self-pitying histrionics.