Why Can't the Senate Pass Popular Bills?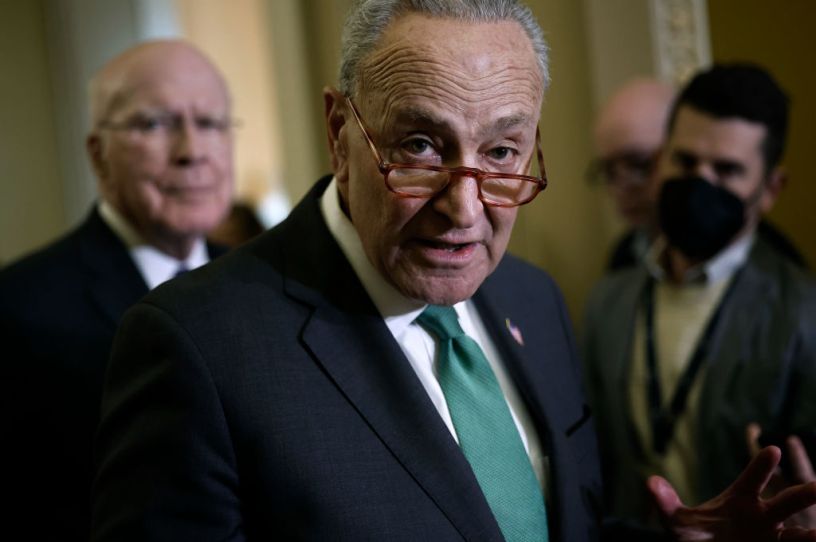 Senate Majority Leader Charles Schumer talks to reporters Tuesday about the bipartisan federal omnibus spending legislation. (Photo by Chip Somodevilla/Getty Images)
By most measures, the bill Congress is considering to reform the Electoral Count Act (ECA) in the wake of 2021's Capitol insurrection should have skated through a Senate vote by now on its way to becoming law.
The Electoral Count Reform and Presidential Transition Improvement Act is popular: The Senate version has 37 co-sponsors from both parties. It's ready for a floor vote: The Senate Rules Committee voted 14-1 in October to advance the bill out of committee after the House passed it in September. It's bipartisan: For several months it's had the filibuster-beating support of more than 10 Senate Republicans, plus the White House and Senate leaders Mitch McConnell and Chuck Schumer. And the bill is salient: Many lawmakers believe that reform is necessary in the wake of former president Donald Trump's actions to steal the 2020 presidential election. The bill, among other changes, clarifies that the vice president's role in certifying results is a mere formality. (Find more of The Dispatch's coverage of the bill here, here, and here.)
But instead of passing it before now, lawmakers waited to include the ECA reform in the $1.7 trillion omnibus spending bill it's trying to pass before Christmas.
It may seem counterintuitive to those who grew up on Schoolhouse Rock or Mr. Smith Goes to Washington that popular bills languish in limbo for months only to make it to the Senate floor as part of massive must-pass packages.
Get every newsletter and all of The Dispatch. Support quality, fact-based journalism.
Get Started
ALREADY HAVE AN ACCOUNT? SIGN IN