Wildfire Season Is Upon Us. It's Going to Be Bad.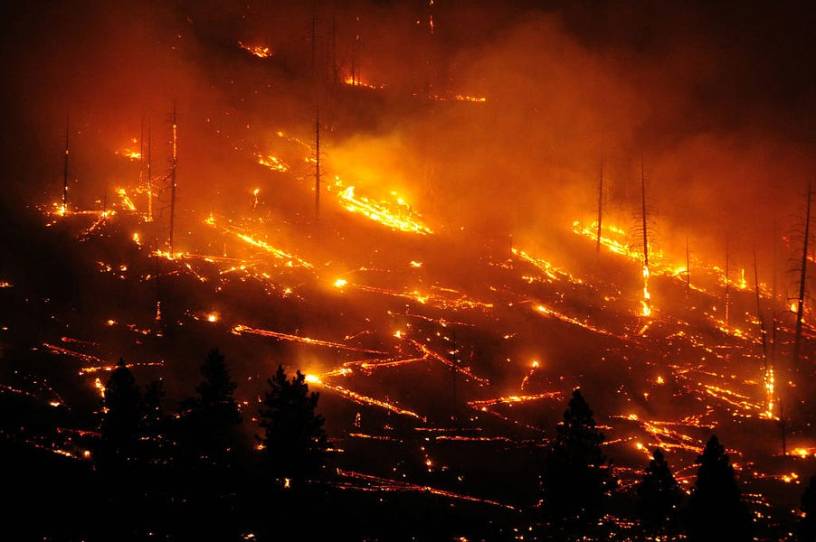 Last August and September, Americans were treated to images that seemed straight out of a science fiction movie (or the Book of Revelation), as massive wildfires turned skies an unsettling orange across many parts of California and Oregon. It was one of the most destructive wildfire seasons ever for the West, destroying $16.5 billion in property (including about 10,000 buildings), and costing more than $3 billion to suppress.
As bad as that was, this fire season has the potential to outpace it. Twin accelerants—extreme heat and a lack of water—threaten to make the western United States a veritable tinderbox.
The region has had a hot start to the summer, to say the least. Residents of the Pacific Northwest have dealt with record-setting temperatures: Portland saw its three hottest days ever from June 26–28. Temperatures climbed above 100 degrees Fahrenheit in a city that typically sees highs in the upper 70s in June. It was the result of a "heat dome," a high-pressure system inhibiting the rise of hot air, pushing it down and making the atmosphere denser and hotter. The dome in the Northwest comes after a succession of other heat waves throughout the American West in early and late June, stretching from Wyoming to California. 
If temperatures hot enough to shut down public transit and buckle freeways weren't enough, the West is also facing a historic drought, the worst and most widespread in decades. Utilities in some Northern California communities have already imposed water-use cuts of 30 to 40 percent for commercial and residential consumers. Farmers are forced to choose which crops they wish to irrigate and which to allow to lie fallow. These hard choices aren't unusual—especially in drought-prone California—but this extreme summer is making them especially difficult.