Send In the Clowns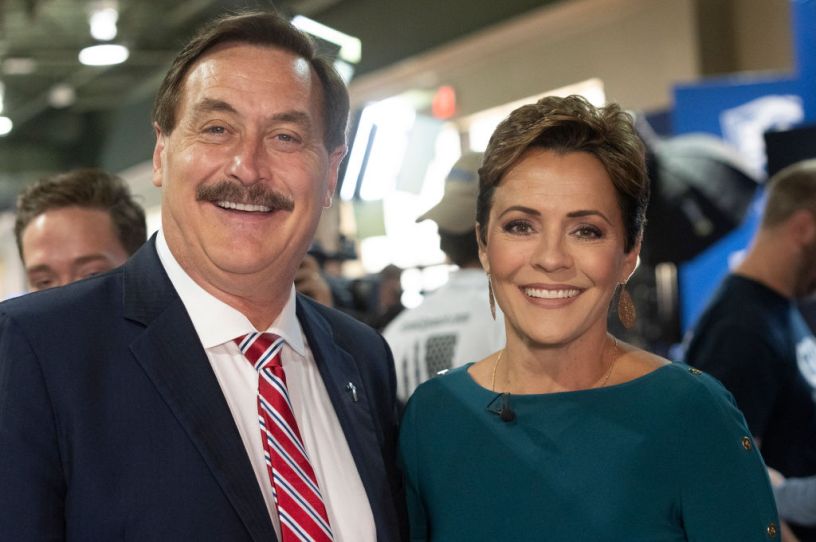 Mike Lindell and Kari Lake pose during CPAC Texas 2022. (Photo by Lev Radin/Pacific Press/LightRocket/Getty Images)
The grandest event on the populist vaudeville circuit begins on Wednesday in Washington, D.C., but you wouldn't know it from the coverage. News stories this week about the opening of the Conservative Political Action Conference have stressed the alleged diminishment of the gathering, hobbled by scandal and deprived of some of the Republican luminaries who would have surely attended in the recent past. "GOP Stars Flee CPAC," NBC reports. "CPAC Has a Major Fox News Problem," The Daily Beast marvels. "Is CPAC Losing Its Mojo?" The Week wonders.
Answer: Not really.
CPAC 2023 is a sordid freak show, but so was CPAC 2022, CPAC 2021, and quite a few CPACs before that. It's a cliché yet true that one can chart the degeneration of conservatism over time from the declining quality of speakers year-to-year at the conference. "We are not a sick society," Ronald Reagan said in his address at the inaugural CPAC in 1974. "A sick society—bereft of morality and courage—did not produce the men who went through those years of torture in captivity in Vietnam. Where did we find such men?" Forty-nine years later, at the nationalist-flavored CPAC of 2023, you're more likely to hear a speaker "joke" that John McCain is burning in hell or presume to excommunicate McCain's voters from the party than to hear sentiments from the stage like Reagan's.
In the media's telling, CPAC has lost influence due to l'affaire Schlapp. Matt Schlapp is the head of the American Conservative Union, CPAC's parent organization; his outfit runs the conference and he traditionally serves as de facto emcee. A few months ago he was accused by a male staffer for Herschel Walker's Senate campaign of having sexually assaulted the staffer by groping his crotch during a car ride. According to the Washington Post, "call logs, texts and videos provided by the Walker staffer and his confidants broadly match" the allegations, and no fewer than nine people told the paper that the staffer described the incident to them on the night it supposedly happened or the next day.