The New Right Gets Mugged by an Old Reality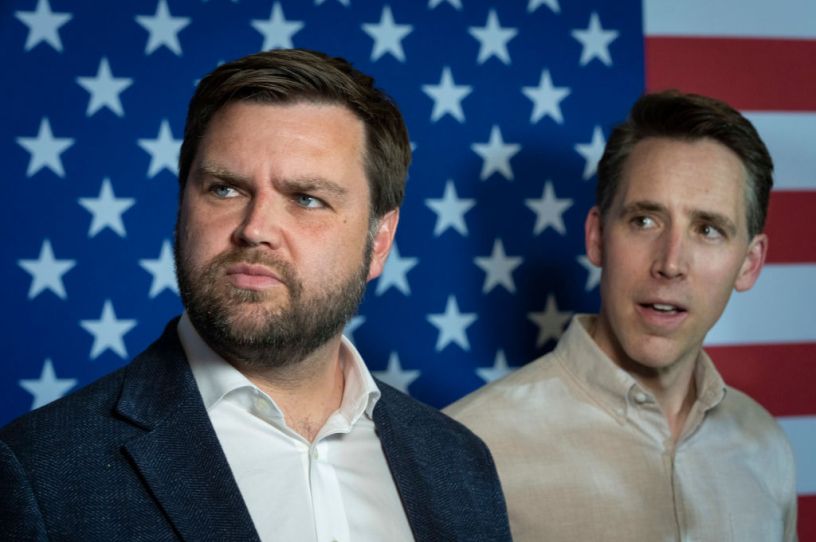 Sens. J.D. Vance and Josh Hawley speak with reporters on May 1, 2022, in Cuyahoga Falls, Ohio. (Photo by Drew Angerer/Getty Images)
Dear Capitolisters,
Among the many things that divide American conservatives today—beyond the fundamentals, I mean—is the extent to which the government should intervene in the U.S. economy.
On one side, you have Reaganite traditionalists who continue to push for relatively limited state involvement in markets. On the other, you have a nationalist "New Right" that's far more comfortable with subsidies, tariffs, antitrust regulation, and other interventions—especially related to trade and industrial policy—as well as the more powerful bureaucracy that these policies require. And this latter group is none too shy about explaining that the Old Right's continued economic humility reflects a market fundamentalism that's simply out of touch with today's economic, geopolitical, or cultural realities.
As we've discussed (a lot), there are plenty of reasons why I'm skeptical of the New Right's economic vision. But recent events make me wonder if maybe they're waking up to at least one of them: The inevitable role of politics in "interventionist" economic policymaking.
The last few months have seen many New Righters and New Right-adjacent folks openly complain about the Biden administration's implementation of the very industrial policy that they've often championed. Just last month, Sen. J.D. Vance of Ohio grumbled in a hearing about the "counterproductive" social policy baked into the Biden administration's implementation of the semiconductor subsidies—which he once hailed as a "a great bipartisan victory" for his state. He's also lamented Biden's industrial policy for electric vehicles (never mind its similarities to President Trump's), while proposing his own version for internal combustion cars. Sen. Josh Hawley of Missouri, a fellow New Right fan of industrial policy, has done much the same thing. He's blasted the Biden administration for its chip subsidy waivers related to China, for example, and railed against a Department of Energy official's hob-knobbing with potential green subsidy recipients (which, to be honest, does look kinda bad!).
Beyond Capitol Hill, other New Righters have similarly embraced industrial policy but then railed against the very "Bidenomics" that relies on it. American Compass' Oren Cass has now written not one but two op-eds in the Financial Times lamenting the Biden administration's implementation of U.S. industrial policy—first the CHIPS Act and now the IRA—as, essentially, right in theory but wrong in practice (e.g., lacking ambition, picking the wrong industries, bogged down by inapt social priorities). He's certainly not alone. In case after case—and op-ed after op-ed—New Righters have effectively been reduced to claiming that, actually, real American industrial policy has never been tried.
No, really.