What Most People Don't Understand About U.S.-China 'Decoupling'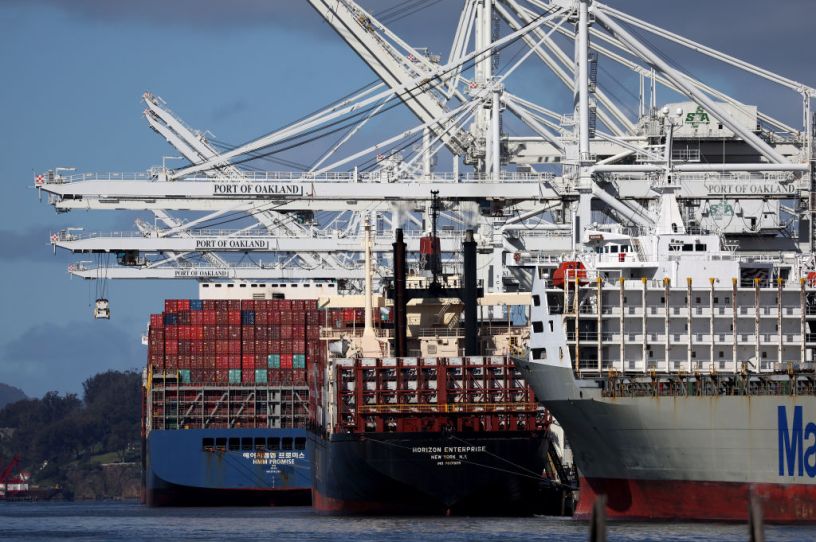 Container ships at the Port of Oakland on March 8, 2023, in Oakland, California.(Photo by Justin Sullivan/Getty Images)
Dear Capitolisters,
One of the trendier topics among econ journalists and wonks these days is the "decoupling" of the U.S. and Chinese economies. Seemingly not a day goes by without someone citing the heated political rhetoric, the confrontational policy moves (tariffs, export controls, sanctions, etc.), and recent changes in bilateral trade flows to argue that we're witnessing "the end of multilateralism" (or whatever) and a return to the pre-World War II system of fragmented trade and regional trading blocs. Others go even further, arguing that we're now in a "New Cold War" (or whatever), that hawkish Biden administration policy is actually too dovish, or that only a complete decoupling of the two economies—fueled by high tariffs, investment restrictions, and other government barriers—is needed both to safeguard national security and ensure U.S. economic dominance in the decades ahead. The news hits have predictably skyrocketed:
Yet, as popular as the decoupling narrative is, many such discussions suffer from a troubling lack of nuance about both the current state of bilateral trade and investmentandwhat the data actually show—and, by extension, the real-world implications of a "hard decoupling" of the U.S. and Chinese economies.
Our 'Soft Decoupling' Reality
Despite all the tariffs and the heated rhetoric, there's been little real sign of a major break from the pre-Trump status quo—at least so far. Most notably, trade in goods targeted by U.S. and Chinese policy measures has declined, but that's been accompanied by an increase in trade in other goods and services that haven't been caught up in the trade war:
Get every newsletter and all of The Dispatch. Support quality, fact-based journalism.
Start Your Free Trial
ALREADY A PAID SUBSCRIBER? SIGN IN