The House Speaker Fiasco Keeps on Going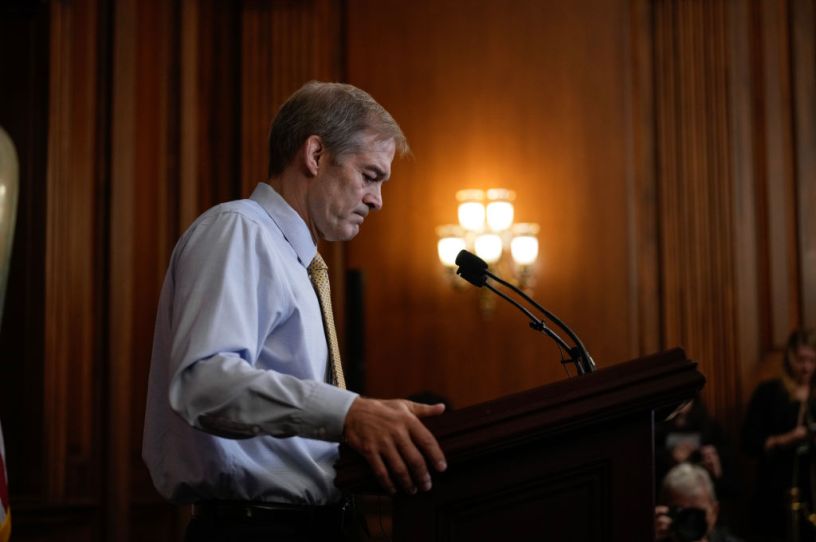 Rep. Jim Jordan holds a press conference at the U.S. Capitol on October 20, 2023, in Washington. (Photo by Drew Angerer/Getty Images)
Happy Friday! Thanks to everyone who made it out to our Dispatch D.C. event last night.
Up to Speed
The House Mess Gets Messier
And we thought the chaos immediately after Rep. Kevin McCarthy's ouster as House speaker was bad. Two weeks on, Republicans are no closer to installing his replacement, conference morale is cratering, leadership is rudderless, and it's plainer than ever that there's just no plan.
Speaker-designate Jim Jordan thought he had a plan. A few of them, in fact. Plan A was to browbeat and/or sweet-talk enough of the holdouts into line for the Ohio Republican to win on Tuesday's first ballot, or failing that on Wednesday's second. Plan B was revealed Thursday morning: Jordan told his colleagues he would push to empower the acting speaker pro tem, Rep. Patrick McHenry, to serve as a functional speaker for a few months and shepherd Congress through its current legislative crunch, then try to vote again.
On paper, this was a conciliatory, everybody-wins proposal: McHenry, a McCarthy ally, would have been a broadly acceptable leader to take the wheel on a few pieces of crucial legislation, including votes on aid to Israel and Ukraine, and averting yet another looming government shutdown.
You're out of free articles
Create an account to unlock 1 more articles