Sidney Powell Pleads Guilty in Georgia
Welcome once again to The Collision, where we know that, despite events global and domestic, there's always something unexpected going on in our little corner of the news. This week's remarkable moment came earlier this morning, when onetime Trump lawyer Sidney Powell took a nice little plea deal just before her trial in Fulton County, Georgia, was set to begin. We'll get into that, as well as the gag order issued by Judge Tanya Chutkan in the D.C. election-interference trial, a little later.
The Docket
Donald Trump's civil trial for fraud in New York continued this week, and the former president made his second courtroom appearance on Wednesday. According to CBS News, Trump appeared "frustrated" and was "shaking his head, throwing his hands in the air, [and] whispering" during the testimony from a real estate executive who said an appraisal of a building the Trump Organization claimed had been provided by him was "inappropriate and inaccurate." The presiding judge encouraged everyone in the courtroom to be quiet.
Bizarre drama seems to follow Trump everywhere, including into the courtroom in Manhattan. A spectator at the trial Wednesday stood up in the middle of the proceedings and began to walk toward the former president. She returned to her seat and was later escorted out and charged with contempt of court. One more weird wrinkle—the woman was apparently an employee of the court system.
What does it mean if a large number of Americans think both parties' leading presidential candidates might be crooks? The latest Fox News poll, conducted between October 6 and 9, suggests that's the case, with 52 percent of registered voters saying they believe Trump did "something illegal" regarding either his efforts to overturn the 2020 election or his retention of classified documents. Another 23 percent said Trump did something "wrong but not illegal," while just 24 percent said he did "nothing wrong."
Not quite as many respondents to that same Fox News poll were willing to say President Joe Biden did something illegal related to his son Hunter's business activities, but 40 percent did—an all-time high since Fox began asking the question in December 2022. Hunter Biden, however, fared just as badly as Trump: 52 percent of registered voters said they thought he had done something illegal.
A couple more quick looks at the toplines from the Fox News poll, which has a stellar reputation among pollsters that's independent of the network's overall credibility: Biden has a 41 percent approval rating, near the lowest mark he's received in this poll; Trump still holds a strong lead in the GOP primary, boasting 59 percent support nationally to Ron DeSantis' 13 percent and Nikki Haley's 10 percent; and Biden and Trump are neck-and-neck in a hypothetical general election matchup, 49 percent to 48 percent, respectively.
The Kraken Pleads Guilty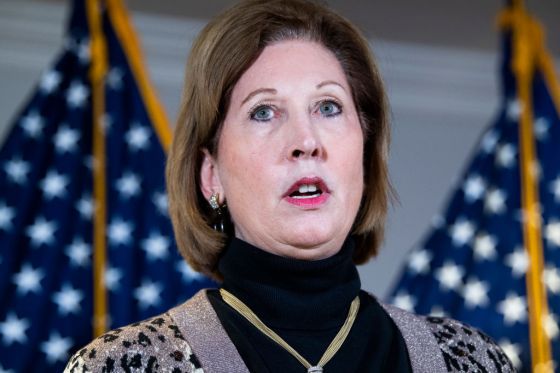 Sidney Powell burst onto the American political scene in late 2020 as perhaps the most bombastic purveyor of Donald Trump's false claims that the election had been stolen. Her repurposing of the Clash of the Titans battle cry—"Release the Kraken!"—quickly went from a catchphrase for those who believed Trump would be vindicated to a joke after Powell's claim that there was overwhelming evidence of voter fraud collapsed.
The Kraken is now thoroughly tied up, with Powell pleading guilty in Fulton County, Georgia, to charges she conspired with other Trump supporters—and Trump himself—to disrupt the 2020 election proceedings in the state. Powell received a pretty good deal by agreeing to plead guilty, with the original felony racketeering charges she and her co-conspirators faced being reduced to the aforementioned misdemeanors.
"As part of the deal, she will serve six years of probation, will be fined $6,000, and will have to write an apology letter to Georgia and its residents," the Associated Press reports. "She also agreed to testify truthfully against her co-defendants at future trials."
You're out of free articles
Create an account to unlock 1 more articles