Jordan Jor-Down, But Not Out
Happy Wednesday! We'd like to apologize to both you and Sen. Mitt Romney for the very unfortunate typo in yesterday's TMD. Declan, our editor, went to the optometrist later in the day and—we swear, we are not making this up—found out his prescription was 50 percent weaker than it needed to be. Once his new glasses arrive in 7-to-10 business days, you can expect there to never be another error in this newsletter ever again.
Quick Hits: Today's Top Stories
The Team in Tatters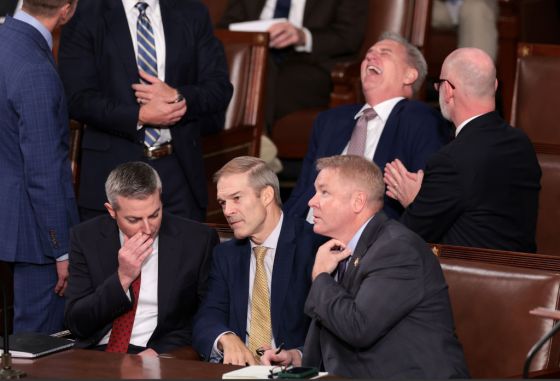 When GOP Rep. Jake Ellzey of Texas named Rep. Mike Garcia of California, his former wingman from their time as U.S. Navy aviators, as his pick to be speaker of the House on Tuesday, Garcia shot him a look—and who can blame him? Although Ellzey had asked Garcia's permission beforehand, Garcia's friend had just put him up for what has to be one of the worst jobs in America.*
"[Dirty Jobs host] Mike Rowe would not want to do this job on his TV show," Republican Rep. Ken Buck of Colorado told CNN's Dana Bash Tuesday. "This is a terrible job." That's why Buck voted for House Majority Whip Tom Emmer, he deadpanned: "I don't like Tom Emmer."
One of the few members who does want the job, House Judiciary Chairman Jim Jordan, tried and failed to grab the gavel Tuesday. Despite a steady drumbeat of votes flipped from "no"—and in one case "hell no"—to "yes" and optimistic statements from Team Jordan, the floor vote Tuesday was an ignominious defeat for the House Freedom Caucus (HFC) co-founder, who heard 20 members of his own conference call other people's names.