Setting Up the Speaker Fight Redux
Happy Thursday! The United States might not have a new speaker of the House just yet—but you can rest assured knowing we're home to the heaviest pumpkin on Earth. How festive!
Quick Hits: Today's Top Stories
Scalise in the Hot Seat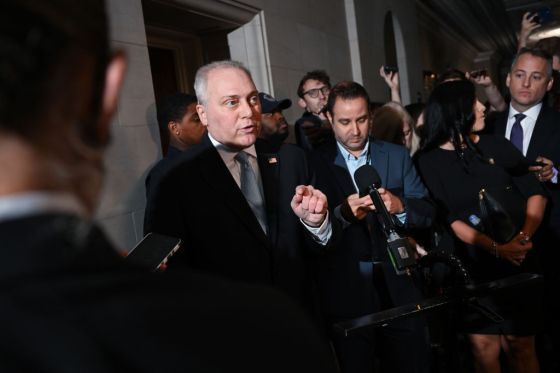 After ousting House Speaker Kevin McCarthy in a historic motion to vacate the chair last week, the Republican conference was desperate to avoid a repeat of that same public dysfunction and embarrassment that characterized the end (and the beginning) of McCarthy's speakership. Part of that effort involved keeping a tight lid on Wednesday's GOP conference meeting to select the next speaker by confiscating members' phones.
While Hill reporters were forced to wait until the meeting concluded to hear any news, House staffers' phone cubby return system created quite the high school hallway scene as lawmakers retrieved their devices.
Behind those closed doors, Majority Leader Steve Scalise beat out House Judiciary Committee Chair Jim Jordan in a conference vote for the Republican nomination to become speaker, but the Louisiana Republican still faces the steep challenge of cobbling together 217 votes on the House floor. To do that, he'll need to unite a GOP conference that's still fractured in the aftermath of McCarthy's ouster last week by a handful of hardline Republican defectors.