Happy Friday! Did we pick our two main stories today solely for the headline wordplay possibilities? Who's to say.
Quick Hits: Today's Top Stories
Clashing Over "Cop City"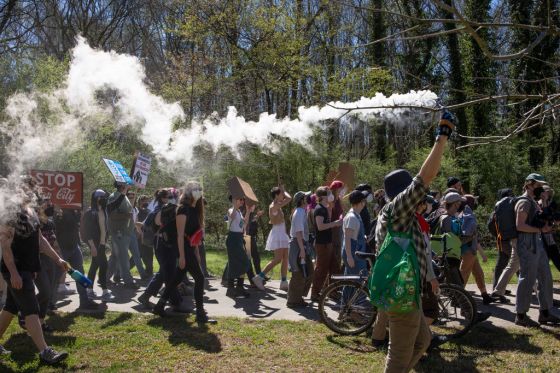 In 2015, Atlanta's police department asked the Atlanta Police Foundation—a nonprofit devoted to fundraising for and developing the city's law enforcement—to sketch out ideas for a new training center. Eight years later, controversy surrounding the project—now dubbed the Atlanta Police Training Center—has led to arson and Molotov cocktails, one dead activist, and dozens more detained and charged with domestic terrorism.
Despite entrenched opposition from a coalition of conservationists, anti-police activists, and others, city officials are forging ahead with a plan they say will give the city's first responders much-needed training facility updates. Planned for 85 acres of a 380-acre tract the city of Atlanta owns in DeKalb County, the center would replace the rented—and in some cases rundown—buildings first responders have been using to train. The design calls for a firing range, driving track, kennel, and stable, as well as classrooms and other mock city locations. "We need to make sure officers are prepared for real-life scenarios, like if you have a shooting in a nightclub or a gas station," a spokesman for Atlanta Mayor Andre Dickens said. The presence of those buildings—as well as 30 acres set aside for green space and walking trails—has prompted opponents to dub the planned facility "Cop City." The Atlanta Police Foundation has agreed to raise $60 million of the expected $90 million price tag, with the city picking up the rest of the bill.
After 17 hours of largely negative public comments, the Atlanta City Council greenlit the plan in September 2021—and opposition has only grown since then. Activists argue the project will remove green space that helps cushion Atlanta from rising temperatures and that the training facility will foster police violence. Opponents have held marches and camped in the area in an effort to slow development, but some have also sabotaged equipment and vandalized construction areas. In January, during an attempt to clear a protest site, police shot and killed an environmental activist who had allegedly shot and injured an officer—a claim activists dispute. Days later, about 100 people descended on downtown Atlanta in protest of the killing, and a handful of them—dressed in all black—smashed bank windows, set off fireworks, and lit a police car on fire. Several explosive devices were recovered from the scene, and Georgia Gov. Brian Kemp declared a state of emergency and activated 1,000 National Guard troops.