Biden's Pick for Labor Secretary Faces Skeptical Senate
Happy Friday! According to tradition, it was on this day in 753 B.C. that Romulus and Remus founded Rome. But remember: it wasn't built in a day.
Quick Hits: Today's Top Stories
Sour on Su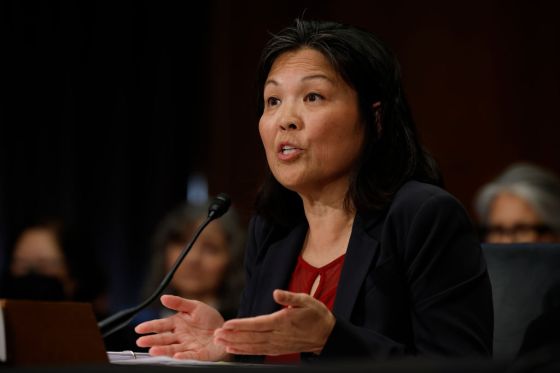 In what other context besides a Senate confirmation hearing would a job candidate bring their kids to sit behind them while the hiring panel impugns their honor and work history for a few hours? Acting Labor Secretary Julie Su endured her grueling bring-your-daughter-to-work day Thursday, answering lawmakers' questions in hopes of winning enough votes to drop the "acting" from her title.
It may not be enough to get her the job. Republicans in yesterday's Senate Health, Education, Labor and Pensions (HELP) Committee meeting knocked Su's union-friendly history, as well as her tenure as California's labor secretary—which included billions in COVID-19 aid fraud on her watch and controversial employment law changes for gig workers. Democrats pushed back during the hearing, but a handful have raised similar concerns—and in a 51-49 Senate, a few defections could easily sink Su's nomination.
When previous Labor Secretary Marty Walsh left for icier pastures in March, Su—his deputy—stepped into his role on an acting basis. An attorney who won widespread praise for representing 72 trafficked Thai garment workers enduring forced labor in the U.S., she co-founded Sweatshop Watch in the mid-90s to improve conditions for garment workers. Before being confirmed as Walsh's deputy in 2021, she was California labor commissioner from 2011 to 2018 and served as secretary of the state's Labor and Workforce Development Agency beginning in 2019. Announcing his intent to nominate Su several weeks ago, President Joe Biden described her resume in glowing terms: "Over several decades, Julie has led the largest state labor department in the nation, cracked down on wage theft, fought to protect trafficked workers, increased the minimum wage, created good-paying, high-quality jobs, and established and enforced workplace safety standards."
Get every newsletter and all of The Dispatch. Support quality, fact-based journalism.
Start Your Free Trial
ALREADY A PAID SUBSCRIBER? SIGN IN