The Elephant Not in the Room
Happy Thursday! If anyone reading this has a spare ulnar collateral ligament, please ship it to the Los Angeles Angels ASAP. Shohei Ohtani—and those of us who enjoy watching Shohei Ohtani play baseball—could really use it.
Quick Hits: Today's Top Stories
The Race for Second Place is On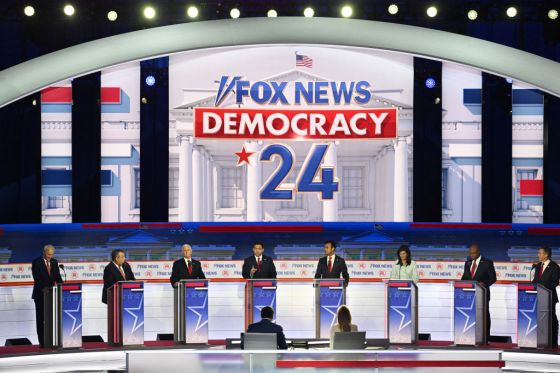 The most important—and revealing—moment of last night's GOP primary debate in Milwaukee came one hour in, just before 10 p.m. ET, when co-host Bret Baier finally got around to asking the eight candidates on the stage about the "elephant not in the room."
"If former President Trump is convicted in a court of law, would you still support him as your party's choice?" he said. "Raise your hand if you would."
Vivek Ramaswamy's arm immediately shot in the air, followed by former Gov. Nikki Haley's and Sen. Tim Scott's. Doug Burgum—the governor of North Dakota whose attendance was in jeopardy after he ruptured his Achilles tendon playing basketball a day earlier—took a deep breath and half-heartedly brought his hand up to his shoulder. Only once the audience erupted in cheers for their competitors did Gov. Ron DeSantis and former Vice President Mike Pence—Trump's onetime running mate—glance to their left and sheepishly do the same.
You're out of free articles
Create an account to unlock 1 more articles