The Sweep: Where Have All the Candidates Gone?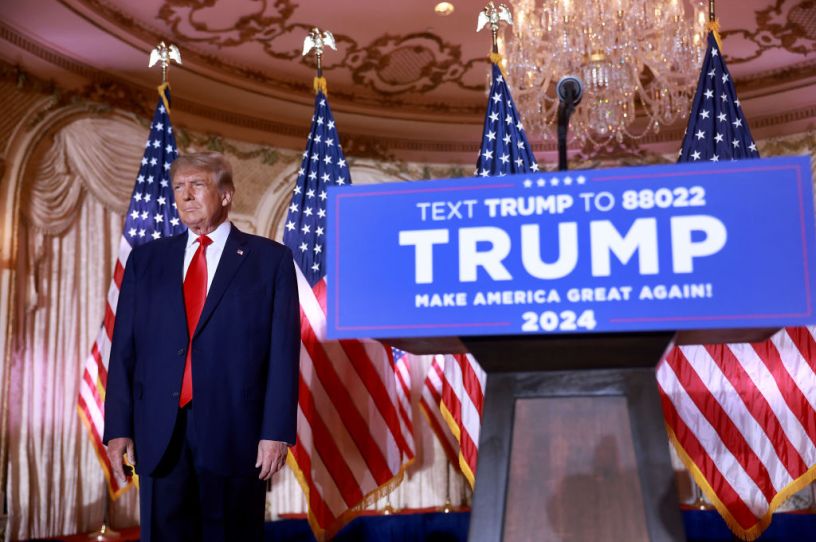 Former U.S. President Donald Trump arrives on stage before announcing that he was officially launchinghis 2024 presidential campaign. (Photo by Joe Raedle/Getty Images)
Starter
The whispers in Washington are getting louder: Does the appointment of a special counsel to investigate whether any laws were broken after classified documents were found in President Joe Biden's office, home, and garage change Biden's decision to run for reelection? Should it?
Legally, I think it is highly unlikely that special counsel Rob Hur will recommend that Attorney General Merrick Garland pursue charges against President Biden. Of course, it's worth noting here that he also can't pursue charges against a sitting president under current DOJ guidelines. But a prosecutor could recommend for charges to be brought when the president leaves office, for example, and that would almost be more damning. I think that scenario is unlikely based on what we know now, which has none of the elements that Jim Comey laid out as necessary when he declined to pursue charges against Hillary Clinton back in 2016: clearly intentional conduct, a vast number of documents, disloyalty to the United States, or obstruction.
That being said, I also think there is a lot we don't know about what has happened to those documents for the last six years. And I'll also note that I've worked closely with Rob Hur and he's an experienced, highly competent federal prosecutor. And federal prosecutors are like hunting dogs. They don't like to go running through the marsh without bringing something back in their mouth.
But all of that is beside the point of whether this changes the political calculation for Biden. After all, he ran on being different from Donald Trump. And so far, the really striking difference is that Biden's unsecured classified documents were kept in a garage next to a Corvette and Trump's were in a desk under a photo of Celine Dion. Democrats may be defending Biden publicly, but privately they are not amused at the position he's put them in.
Get every newsletter and all of The Dispatch. Support quality, fact-based journalism.
Start Your Free Trial
ALREADY A PAID SUBSCRIBER? SIGN IN