Could the Hunter Biden Probe Prompt New Ethics Legislation?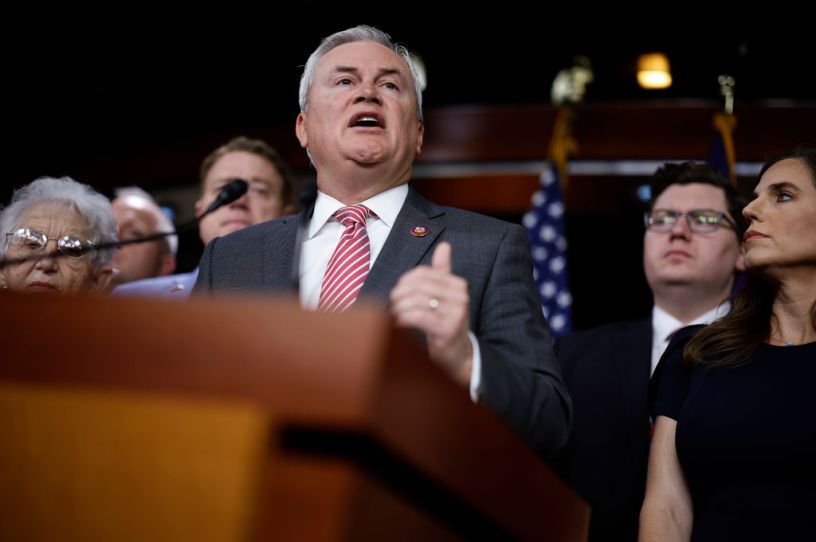 House Oversight and Accountability Committee Chairman James Comer and other Republican members of the committee hold a news conference to present preliminary findings into their investigation into President Joe Biden's family Thursday. (Photo by Chip Somodevilla/Getty Images)
Republicans and Democrats may vehemently disagree on the House GOP investigation into Hunter Biden's business transactions, but they could—at least in principle—find common ground on an ethics bill inspired by the probe.
Rep. James Comer, chairman of the House oversight panel, said this week Republicans are considering legislation to require non-dependent family members of the president and vice president to disclose their finances to the public. The idea came as Republicans also announced the committee had obtained bank records showing more than $10 million from foreign sources flowed into various bank accounts tied to President Joe Biden's family members between 2015 and 2017, raising concerns about influence-peddling. Republicans didn't tie any of the transactions directly to the president, nor could they identify any instances in which the payments influenced official policy while Biden was vice president—but they said they are worried about the national security implications.
Imposing more robust reporting requirements for families of senior government officials sounds like a bill some Democrats would have supported during former President Donald Trump's tenure, given the many business activities of Trump's adult children—and it's potentially a bill some Democrats could support today. But it may be a long shot: There's no clear legislative text yet, and political acrimony amid the Hunter Biden investigation could make bipartisan collaboration a challenge.
Still, some Senate Democrats told The Dispatch this week they're interested to hear the House GOP's ideas.
Get every newsletter and all of The Dispatch. Support quality, fact-based journalism.
Start Your Free Trial
ALREADY A PAID SUBSCRIBER? SIGN IN