House GOP Moves to Messaging Bills and Investigations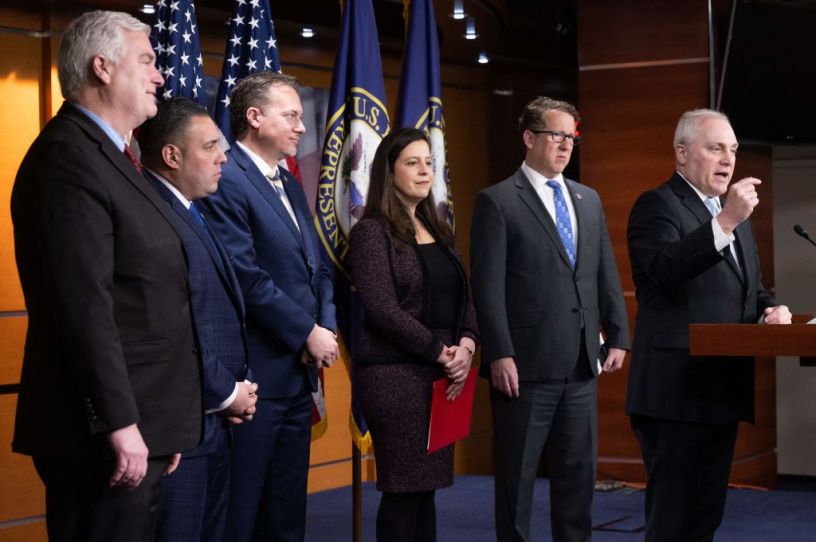 House Majority Leader Rep. Steve Scalise speaks alongside Majority Whip Tom Emmer, Rep. Anthony D'Esposito, Rep. Michael Cloud, House Republican Conference Chair Rep. Elise Stefanik and Rep. Adrian Smith during a press conference on Capitol Hill Tuesday. (Photo by SAUL LOEB/AFP via Getty Images)
Good afternoon. The House has a speaker and a set of rules—ordinarily a formality at the start of each Congress, but for this closely divided chamber, a bit of a saga. Now, Republicans are moving to items they largely agree on: messaging bills and investigations.
Two New Select Committees
Republicans itching for reprisals in the wake of last year's FBI search of former President Donald Trump's Florida property may soon have a dedicated select committee for the task.
Members will vote today on forming a select committee with a broad mandate to investigate the federal government and empowered to dig into ongoing criminal investigations. This was a key demand among House Freedom Caucus members who initially opposed House Speaker Kevin McCarthy's bid for the gavel.
The subcommittee will be organized underneath the House Judiciary Committee, which is set to be chaired by Ohio Rep. Jim Jordan. Its purpose has been likened to the Church Committee named after Sen. Frank Church, which investigated intelligence community activities in the 1970s. It's not yet clear who the new panel's Republican members will be, nor which Democrats will participate.