Balancing Justice and Mercy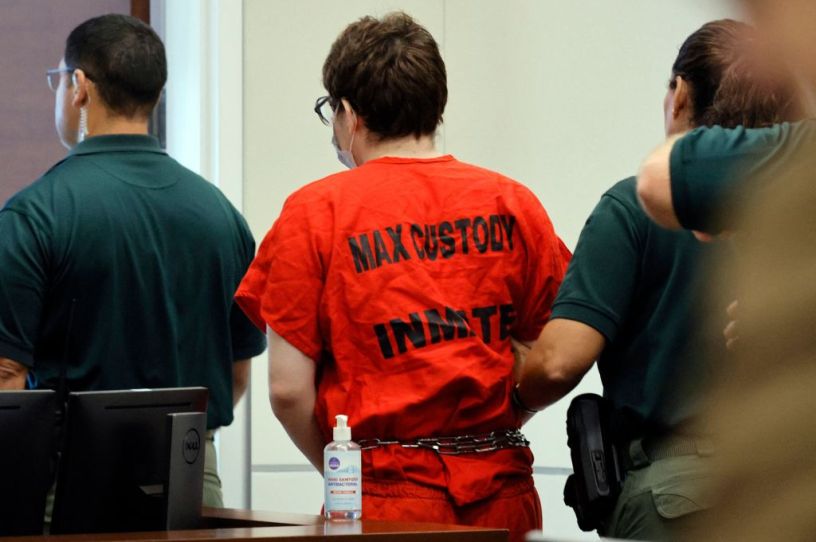 Marjory Stoneman Douglas High School shooter Nikolas Cruz is escorted from the courtroom after a hearing. (Photo by Amy Beth Bennett/AFP/Getty Images.)
Welcome to Wanderland, my new Dispatch newsletter. 'll be writing about my usual interests: culture, language, economics, policy, politics, overlooked stories, and people from those sometimes-forgotten parts of our country that are more than 60 miles away from the offices of the New York Times and more than an hour's drive from the Washington Post. I hope you will enjoy it. Speaking of language, I'm not yet sure how my editors here feel about the word "bulls—" and whether that's going to come through with asterisks or dashes or all the way spelled out, but our overriding goal here at the Dispatch is the scrupulous avoidance of bulls—, which is why we are mainly subscriber-supported rather than advertiser-supported, and to that end I would like to encourage you to click on the following link and subscribe to the Dispatch and then sign up to receive Wanderland in your in-box.
The Parkland Story Doesn't Need Another Corpse
I have been writing against capital punishment—against putting people to death in the pursuit of justice—for a long time, and for a long time I have had the same problem: Just when I think I've really made peace with the issue, somebody comes along who so obviously deserves death, whose crimes all but demand it, that I think: "Except for that guy. That guy, I'd feel good about killing."
I expect many of you have had the same struggle. The killer in the Parkland, Florida, school massacre, who has been sentenced to life in prison rather than to death, obviously deserves death. He deserves death as much as anybody I can think of. But the issue of what he deserves may be less illuminating than it seems at first: When people say, "Death is too good for him," they are not being hyperbolic. The brutal murderer in question surely deserves the worst we could think to do to him: torture, humiliation, terror. You can go very far down a dark road very quickly—and go farther than you meant to—thinking about what such people deserve. We don't generally prohibit torture because we think nobody deserves it—nobody really believes that—but because we want to defend ourselves and our institutions from the degradation that torture imposes on the torturers. Even if we did not care about the victims of torture at all, we would be loath to endorse the practice because we care about what it does to us. My argument against the death penalty has always been roughly the same: Of course there are people who deserve it, of course there are times when justice would not only countenance it but may demand it; but we live in a rich and free society with lots of resources, so we get to make choices, and one of the choices we might make—should make—is to forgo the temptation to pursue justice to the last inch.
Instead, we should choose to balance competing goods, in this case justice and mercy. And it is not mercy to forgo imposing the last and ultimate measure of vengeance on those who do not deserve it—that would only be simple justice, refusing to do what is positively unjust. Mercy consists in deciding to forgo imposing the last and ultimate measure of vengeance on those who do deserve it. To forgo the death penalty is only meaningful as mercy because some people absolutely do deserve it. The fact that they do deserve it is part of the reason not to do it.
Get every newsletter and all of The Dispatch. Support quality, fact-based journalism.
Start Your Free Trial
ALREADY A PAID SUBSCRIBER? SIGN IN