The Whited Sepulcher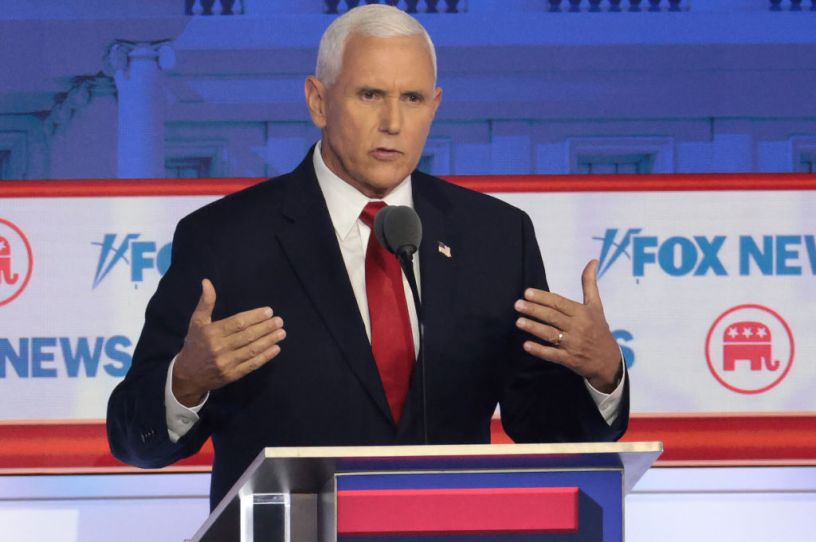 Former Vice President Mike Pence participates in the first debate of the GOP primary season hosted by FOX News at the Fiserv Forum on August 23, 2023. (Photo by Win McNamee/Getty Images)
As a politician, Barack Obama was remarkable for his chutzpah. My favorite example of this came in 2008, when a few members of the Washington press suddenly—and no one knows why—remembered they were reporters and started asking questions about Jeremiah Wright, the racist crackpot and Jew-hating weirdo pastor whose church Obama had been attending for years. The ensuing scandal threatened to undermine young Obama's presidential ambitions—he hadn't yet knocked off Hillary Rodham Clinton—and, so, something had to be done.
Now, a normal person in that situation—the situation of having spent years in a close, intimate, spiritual relationship with an obvious bigot—might be tempted to apologize, to acknowledge that it had been an error in judgment, to resolve to be more selective about the company he keeps in the future. But Barack Obama is not a normal person, and so he responded by lecturing us—the country at large—on our racism, as though we had been the ones sitting in the pew with Reverend "Them Jews" and playing footsie with Louis Farrakhan. The message of Obama's speech was clear: "Americans, you are culpably racist, and the only way to redeem yourselves is to vote for the black guy for president, whatever racist-crackpot/Jew-hating-weirdo baggage he has in his own political entourage." It was brazen and amoral. It was also brilliant.
Mike Pence was paying attention.
Get every newsletter and all of The Dispatch. Support quality, fact-based journalism.
Start Your Free Trial
ALREADY A PAID SUBSCRIBER? SIGN IN