Our Best Stuff From the Week the Trump Indictment Came Down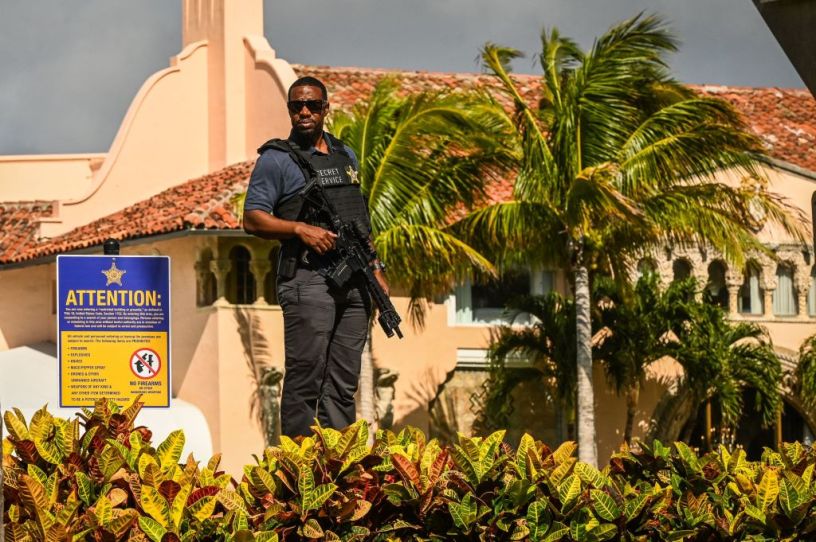 A Secret Service agent stands outside of Mar-a-Lago, home of former President Donald Trump, in Palm Beach, Florida, on April 1, 2023. Trump is expected to surrender to authorities in New York to face charges over a hush-money payment to adult film star Stormy Daniels. (Photo by Giorgio Viera / AFP/Getty Images)
Hello and happy Saturday. Had this been a normal week, I'd be joking about how you can predict when it's going to rain by looking at our son's baseball schedule, or tell you how our oldest was having a cool experience at Fort Knox this weekend with his ROTC battalion. But it was not a normal week, was it? 
On Wednesday, media outlets reported that the Manhattan grand jury hearing evidence in District Attorney Alvin Bragg's investigation of former President Donald Trump would not be meeting for the next month, putting off any potential indictment. Or not. The very next day, at about 5 p.m., the indictment dropped. The indictment is still sealed and we likely won't know the specific charges until Tuesday, but reports indicate that Trump will face charges on more than 30 counts related to business fraud. He's the first former president to be indicted, and, as we noted in The Morning Dispatch, the first to officially run afoul of law enforcement "since Ulysses S. Grant was arrested for speeding through Washington, D.C., in his horse-drawn carriage."
Bragg's investigation has centered around Trump's alleged $130,000 hush-money payment during the final days of the 2016 campaign to adult film star Stormy Daniels. (Daniels' allegations of a 2006 sexual encounter with Trump became public in 2018.) The investigation involves the most sordid allegations of the various inquiries into the former president, but also the least serious. Trump is also the subject of a grand jury investigation in Fulton County, Georgia, related to his attempts to overthrow the 2020 election, and special counsel Jack Smith is investigating the January 6 Capitol riot and whether Trump played any role in the attempt to prevent the certification of the election results.
And so it's a messy situation. There are legal questions: Is the case too weak? Will Bragg's novel theory that Trump's payment amounts to a campaign finance violation be shot down? And there are political questions: Is the investigation an example of prosecutorial persecution? Might this actually help Trump with his supporters? What does it mean for 2004?