Afghan Allies Still in Limbo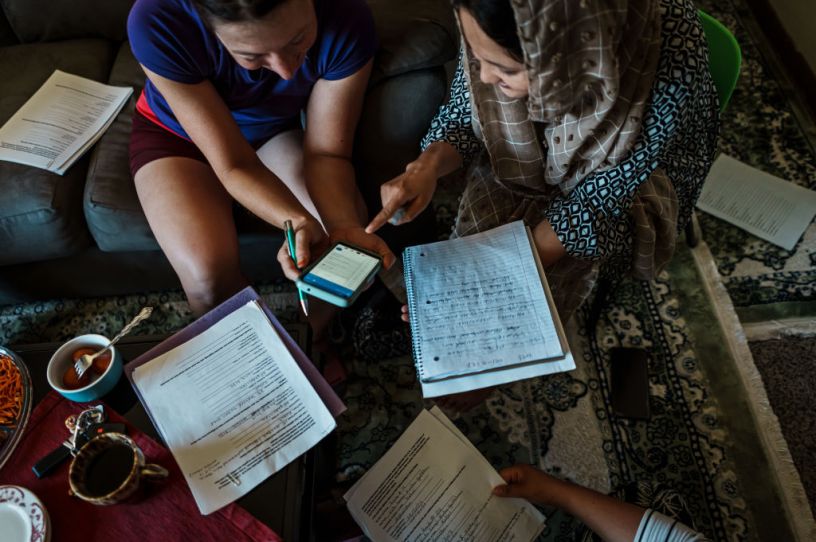 A volunteer helps Afghan refugees fill out asylum paperwork in Des Moines, Iowa, Sunday, Aug. 7, 2022. (MARCUS YAM / LOS ANGELES TIMES)
Zuhurullah Sharifi gets the same response every day when he checks his application to change his immigration status: under review.
Sharifi and his family are among the tens of thousands of Afghans granted humanitarian parole during the chaotic U.S. withdrawal and subsequent Taliban takeover of his country two years ago. Out of approximately 77,000 Afghans granted humanitarian parole, only about 10 percent—8,127—have obtained a more permanent immigration status from the United States' backlogged immigration system, according to U.S. Citizenship and Immigration Services (USCIS). As of May, the latest month for which numbers are available, 2,527 Afghans had been approved for asylum, while 5,600 were approved for green cards.
Being on humanitarian parole has allowed this group of Afghans to live and work in the United States since moving here. But it expires at the end of September, leaving their legal authorization to work in doubt.
"I don't think anyone's proposing removing people from the country," Matthew Soerens with the refugee agency World Relief tells The Dispatch, noting that the United States does not recognize the Taliban as a legitimate government and has no diplomatic relations.