Biden's Iran Policy Is About to Change—One Way or the Other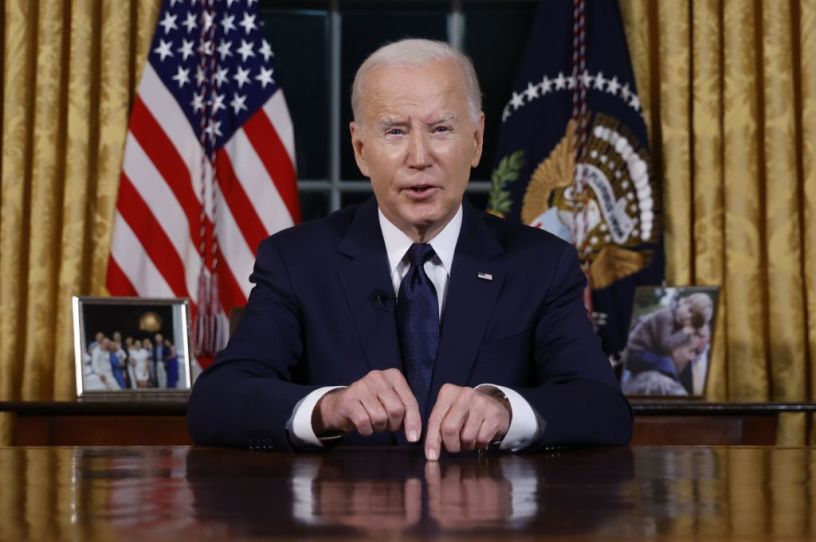 President Joe Biden addresses the nation from the Oval Office of the White House on October 19, 2023, in Washington, D.C. (Photo by Jonathan Ernst/Getty Images)
Last week Deputy Treasury Secretary Wally Adeyemo reportedly told House Democrats that the $6 billion ransom the Biden administration agreed to send Iran—oil payments that had been frozen in South Korea and released to Qatar—ostensibly to secure the release of five American-Iranian dual nationals had been refrozen. The action was provoked, the story suggested, by Tehran's long-standing support of Hamas, which invaded Israel on October 7, killing and kidnapping with abandon. Among the dead and kidnapped are Americans.
The Islamic Republic is denying that the Qatar funds have been locked. Iranian state media even reported that Qatar's central bank governor had said, "The rumors about the refreezing of Iran's funds in Qatari banks were of no real value, and were more like a joke and media game." John Kirby, the U.S. national security council spokesman, hasn't answered the question explicitly, though he told The Dispatch "none of it has been spent or accessed by Iranian authorities, and we're watching it very closely." Secretary of State Antony Blinken echoed the same line, also not clearly stating that the dollars had been refrozen but implying that Iran hadn't been allowed to spend a cent.
One can see why the administration is being opaque. First, and perhaps foremost, if a senior U.S. official acknowledges that Iran was directly involved with the murder and kidnapping of U.S. citizens, that could be seen as a slippery slope casus belli. The White House, like the Israeli government, does not want to see this war expand into a regional conflagration. Directly acknowledging Iran's collaboration in directing this war, or just being a co-director, could definitely ramp up emotions on all sides. Better to play down anything that might be catalytic.
And if the Biden administration has actually refrozen the accounts in Qatar—Ademeyo is known for being meticulous and careful in his use of English—it has effectively abandoned the approach it has taken on Iran since January 2021. Nonproliferation is the be-all and end-all of its Iran policy. The ransom payment was clearly a means to create the right ambience for Tehran to accept a new "understanding," the beginning of a pay-as-you-go nuclear deal which just might delay an Iranian nuclear test, at least beyond November 2024. Whether Iran could pull off a test in the next year is doubtful, but U.S. officials are giving shorter timelines on how long it would take the Islamic Republic to construct an atomic device.
You're out of free articles
Create an account to unlock 1 more articles