Our Liberty Theme Park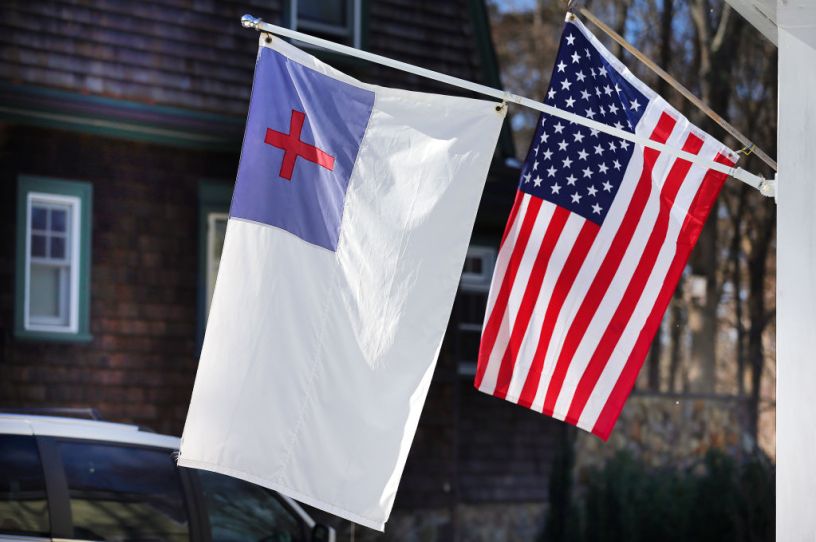 The Christian flag is on display with the American flag in Lexington, Massachusetts. (Photo by John Tlumacki/The Boston Globe via Getty Images)
An NPR political correspondent asked me this past week for thoughts on the opportunities and challenges House of Representatives Speaker Mike Johnson faces. She was knowledgeable about the attacks on him as well as the cheerleading for him. She wanted other perspectives and called me because I edited World magazine for 29 years, resigned two years ago, and could speak as a mostly conservative, definitely Christian journalist.
What might I offer? Maybe a step back from the immediate controversies over aid to Israel/Ukraine and domestic spending. Maybe some longer-term perspective about ends and means. I like the first question in the Westminster Shorter Catechism, a central Protestant document from the 1640s: "What is the chief end of man?" The answer is "to glorify God, and to enjoy him forever." That's also a good question to ask about nations: "What is America's chief end?"
Conservative Christians have been and are divided on that. Some believe that to glorify God we should attempt to make America a modern version of ancient Israel, a holiness theme park with (officially) zero tolerance for wrongdoing. They say we should follow the laws laid out from Exodus to Deuteronomy and have severe penalties for disobedience. Theologian Rousas Rushdoony made the comprehensive argument for this in The Institutes of Biblical Law (1973), and a half-century later politicians like Lauren Boebert offer slimmed versions.
I'll offer two reasons why those views are wrong. First, although some Christians and Jews turn the Old Testament—the Hebrew Scriptures—into a series of exemplary stories, it's more a history of defeat. The book of Genesis shows how Adam and Eve lived in an ideal environment but still messed up. Later, Abraham, Isaac, and Jacob all had family dysfunctions. They had descendants who fell into slavery in Egypt but eventually grew into a nation that returned to a promised land with some unique advantages.
You're out of free articles
Create an account to unlock 1 more articles