Revisiting MLB's Rules Changes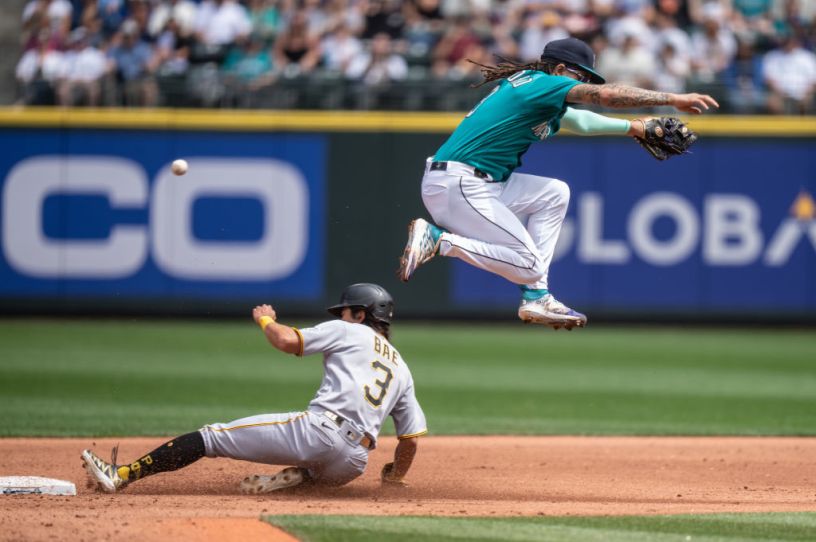 Ji Hwan Bae of the Pittsburgh Pirates steals second base as shortstop J.P. Crawford of the Seattle Mariners leaps in an attempt to field an errant throw by catcher Cal Raleigh on May 27, 2023 in Seattle, Washington. (Photo by Stephen Brashear/Getty Images)
We're about a third of the way through the Major League Baseball (MLB) season, and a consensus is developing that the rules changes implemented this year to make the game more exciting are having their intended effect.
MLB was trying to address three serious problems: Games were taking too long; there were too many plate appearances resulting in so-called "true outcomes"—home runs, strikeouts, or walks—during which infielders and outfielders might just as well have remained in the dugout; and there was too much time between batted balls being put into play.
What changes did MLB make? In a nutshell: 1) Games now feature a pitch clock, meaning pitchers are charged with a ball if they don't deliver a pitch in time and hitters face a strike call if they are not ready; 2) The defensive shift has been banned—infielders must have their feet in the infield and there must be (at least) two infielders on each side of second base when a pitch is delivered; 3) The bases have been enlarged to encourage stealing; and 4) There are limits on pitchers throwing to a base to hold a runner on.
Have the rules changes had their intended effect, or are some of the game's problems being masked by the real but misleading increase in the pace of play? Let's take a look.