The EU Is Missing a Chance to Address Its Problems With Turkey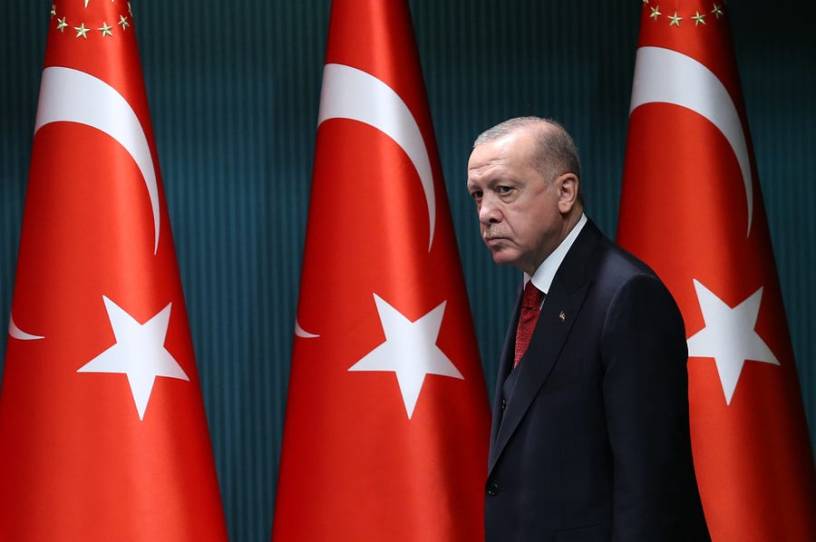 Last October, Turkish President Recep Tayyip Erdoğan suggested that French President Emmanuel Macron ought to seek "some sort of mental treatment," after the latter had announced a tougher stance on radical Islam. Tensions between Turkey and France have been rampant since the beheading of French civics teacher Samuel Paty, who was targeted for showing caricatures of the Prophet Mohammed to his students. On top of that, Paris strongly supports Greece in its border dispute with Ankara—having dispatched its Charles de Gaulle aircraft carrier to the Eastern Mediterranean Sea late last summer to patrol Greek territorial waters. Turkey and Greece have long had near-war scenarios over the territorial situation of Greek islands—in 1996, the military escalation of Imia was only avoided after a U.S. envoy brokered a ceasefire.
It isn't only the French-Turkish relationship that has had a rough patch in the last few months. Turkey has cultivated strong feelings of dislike all around. Its intervention in the conflict between Armenia and Azerbaijan over the Nagorno-Karabakh region upset Russia, which has never gotten over the 2015 downing of one of its fighter jets. Erdoğan's intervention in the Syrian civil war has also angered the international community, which is increasingly becoming aware of the neo-Ottoman approach of the Turkish presidency. 
Turkey is also accused of breaking the arms embargo in Libya, breaking long-term NATO traditions by acquiring Russian military equipment, and cozying up to terrorist organizations such as Hamas and Hezbollah in its open provocations against Israel. Domestically, Erdoğan is dealing with record-high inflation, student protests against his authoritarian power grabs in academic institutions as well as his anti-LGBT platform, and an abysmal human rights record. The offices of opposition parties are being raided, often on loosely assembled charges. Turkey's recent exit from the Istanbul Convention—an international treaty fighting violence against women—once again underlines how he intends to transform a secular country into a more deeply conservative and nationalistic entity.
And yet, the European Union in its most recent European Council meeting failed to reach any type of firm conclusions on Turkey. In this meeting, the EU pointed out the ongoing dispute between Turkey and Greece over territorial waters and airspace, as well as the ongoing Turkish occupation of Northern Cyprus. Yet it deemed no immediate consequences to be necessary. Instead, EU leaders called for strengthened cooperation with Ankara, including on issues related to migration.
You're out of free articles
Create an account to unlock 1 more articles