Happy Thursday! It's been a rough year for U.S.-China relations, but this may be the final straw: Beijing is recalling its loaner pandas that have been the highlights of American zoos for 50 years.
Get your fix of the panda cam now, folks.
Quick Hits: Today's Top Stories
The Search for a Trump Challenger Continues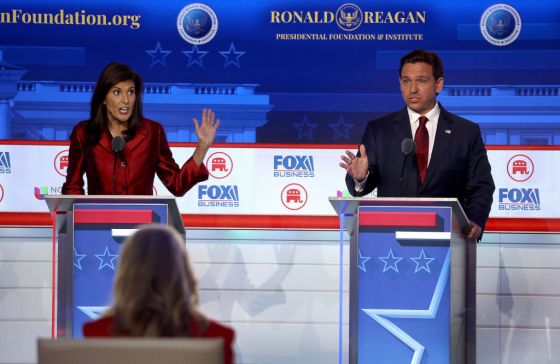 With five minutes left in the broadcast of last night's second Republican presidential debate, Fox Business moderator Dana Perino said the quiet part out loud. "It's now obvious that if you all stay in the race, former President Donald Trump wins the nomination," she told the seven assembled candidates on the stage at the Ronald Reagan Presidential Library in Simi Valley, California. "None of you have indicated that you're dropping out."
But rather than have any of them make the case that they should be the one to take on Trump, or give candidates an opportunity to express—as several had in the previous 115 minutes—their frustration at their party's standard-bearer for playing hooky from the proceedings, she took a different tack. "So which one of you on stage tonight should be voted off the island?" Perino asked, to uproarious laughter from the candidates and audience alike. That laughter turned awkward—and the candidates' faces confused, and then indignant—when she asked them all to write another candidate's name on a provided notepad, à la Survivor.