Unpacking the Menendez Indictment
Happy Tuesday! It's officially the end of an era: Netflix's original DVD rental operation will close up shop on Friday after 25 years.
If you still have a little disc in a red sleeve collecting dust on top of the DVD player you haven't used in a decade—you might as well just leave it there.
Quick Hits: Today's Top Stories
Hard Cash, Gold Bars, and a Mercedes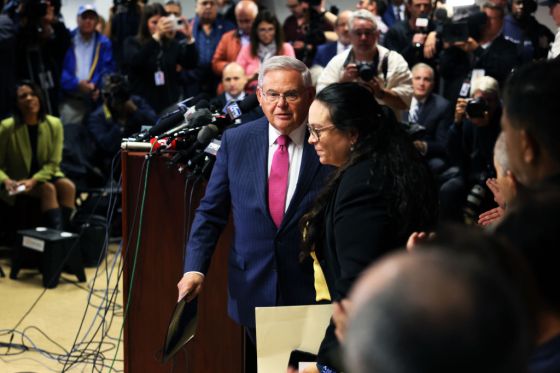 Tucked away between a plastic ice bin and a red cardboard box featuring the Pillsbury dough boy—with his arms theatrically extended in his trademark "ta-da" pose, proudly presenting not one but two frozen pie crusts—were stacks of $100 bills, bound by rubber bands and wrapped in aluminum foil, that would become important evidence in the federal investigation of an elaborate bribery scheme concocted by former Louisiana Rep. William Jefferson. The banknotes, some $90,000 in cash of the cold, hard variety, were found in the freezer of Jefferson's home in Washington by federal law enforcement officials who had watched him accept the money a day earlier as a bribe meant to facilitate business in Africa. Jefferson would be convicted in 2009 of taking more than $400,000 in bribes as part of his get-rich scheme.
While there are no reports of hidden cash in the freezer, last week's 39-page indictment of Sen. Bob Menendez, the senior Democratic senator from New Jersey, detailed a wide variety of bribes Menendez allegedly accepted to benefit friends and the government of Egypt. There was money funneled through a consulting company. Mortgage payments. More than $500,000 in cash—some of which was found stuffed in Menendez's Congressional Hispanic Caucus jacket. A sinecure for his wife. A brand new Mercedes-Benz C300 convertible. More than $100,000 in gold bars. And two exercise machines, plus an air purifier. (All that's missing is a DVD player.)